Tuesday, May 18th, 2010
Surprisingly, although striped bass (Morone saxatilis) are one of the Delta's most popular sportfish, little is known about their fine-scale migration behavior throughout California. Until recently we believed, for instance, that stripers generally move towards open-water (i.e. bay and ocean) during the winter months, then migrate upstream into lower tributary reaches to spawn in spring, the same time many juvenile salmon and steelhead are migrating downstream. However, sampling in tributaries over the last few years has revealed that a significant number of stripers may reside year-round in freshwater, rather than annually migrating between freshwater and the bay/ocean. This would be an important finding because it would change our current model of freshwater fish communities in lower river reaches throughout California's Central Valley.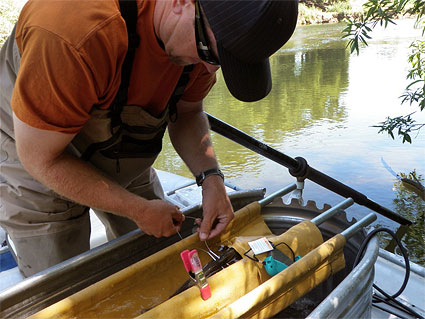 This striped bass is being tagged with an acoustic transmitter to evaluate its fine-scale (i.e. within freshwater) migration characteristics. This tagged fish, along with many others just like it, will help us evaluate the spatial and temporal distribution of stripers in freshwater, and how variables such as time of year, water temperature, and river flow influence their behavior. The tag is an HTI X-type tag that is secured under the dorsal fin with thin coated cable, inserted through the fish with the help of two 14 gage hypodermic needles. A yellow Floy Tag with our contact info is also placed on the fish in case the fish is captured by an angler, and to help us visually identify the fish during snorkel surveys.