If you're a frequent visitor to our website, you may have noticed an update to one of the rotating banners on our homepage. Our graphics designer and videographer Dee Thao has produced some unique artwork in the style of movie posters to promote our featured FISHBIO films. We asked Dee to share some of her methods and inspiration behind these creative graphics to give us an inside look at the design process. Dee used Adobe Illustrator and Photoshop to transform some of our photos and give them the feel of paintings. She accomplished this by tracing the photos, then adding layers and "brush strokes" to the images.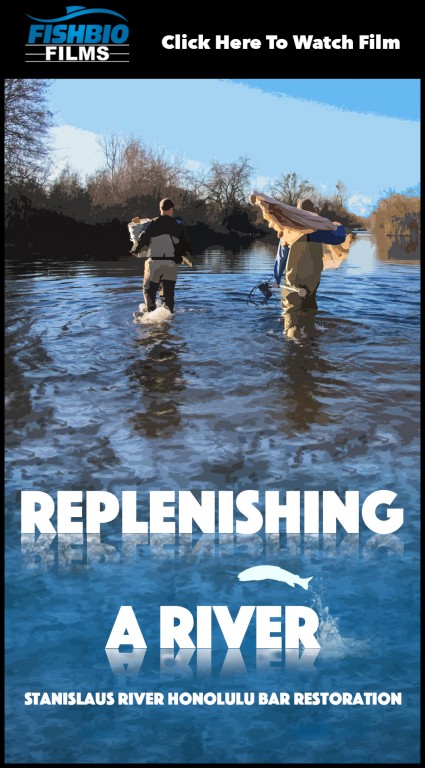 For this poster highlighting our video on improving salmon habitat on the Stanislaus River, Dee said she wanted to create the feeling that the viewer is in the water with FISHBIO staff as they walk to survey the Honolulu Bar restoration project. To do this, she re-created the water effect from the original image and extended it to fill the bottom of the poster. The jumping fish helps convey that the goal of the project was to improve spawning and rearing habitat for endangered salmon and steelhead.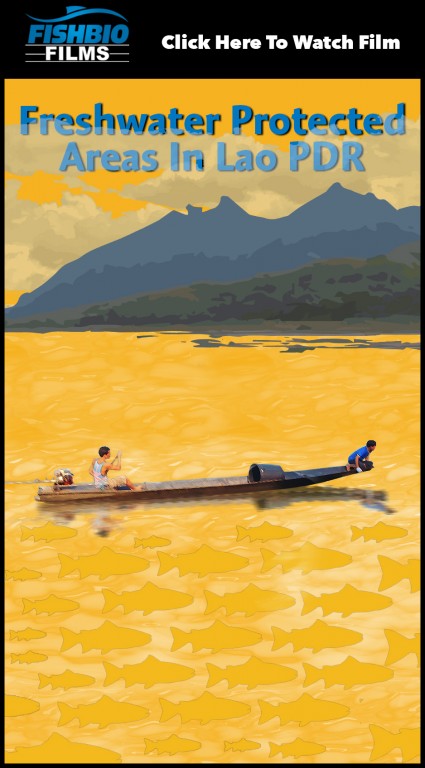 If the fish in this poster about our conservation work in Laos are hard to see at first, that's the point. Dee said she wanted to reflect the environment of the Mekong River, which teems with fish, but keeps them hidden beneath the river's murky surface. The poster incorporates some of the gorgeous mountains in Laos, and portrays two locals traveling the river, presumably heading to survey a freshwater protected area.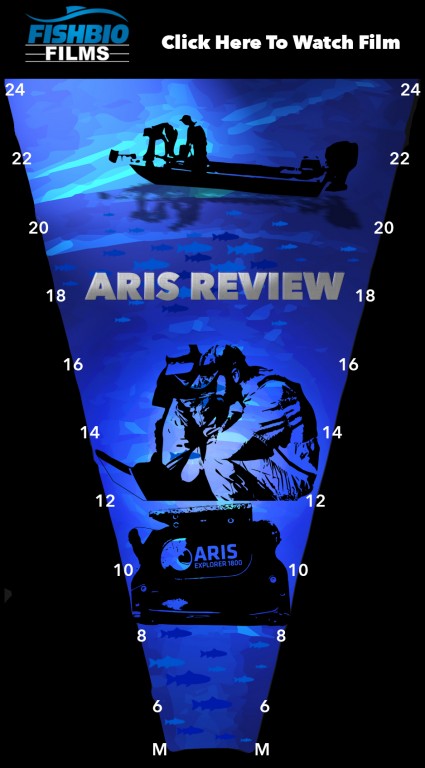 This poster for our review of the ARIS sonar camera is styled to look like footage playback from the ARIS itself. Dee started with a frame from an actual ARIS video and added other images on top. The internal images show how the ARIS is used in the field, how FISHBIO staff collaborate while using the ARIS, and an image of the actual camera unit.
Last but not least, here is a sneak preview of the poster for a film we will be releasing very soon on the importance of Big Chico Creek. Dee said the design was inspired by the stunning photographs taken during our Big Chico Creek surveys. The design features the creek's tree-filled beauty, and some of our hardworking staff who "star" in the film, which will be coming soon!