As big fans of "Do It Yourself" at FISHBIO, we value creativity and hands-on resourcefulness, whether in our FABLAB or in the kitchen. Our team has proven to be multitalented, capable of designing fish monitoring camera systems from scratch, as well as whipping up delicious dishes for lunch. The product side of FISHBIO farms has really grown over the years, as we experimented and perfected a range of homemade recipes. What started as snacks for staff quickly evolved into products we proudly share with our clients, friends, and family.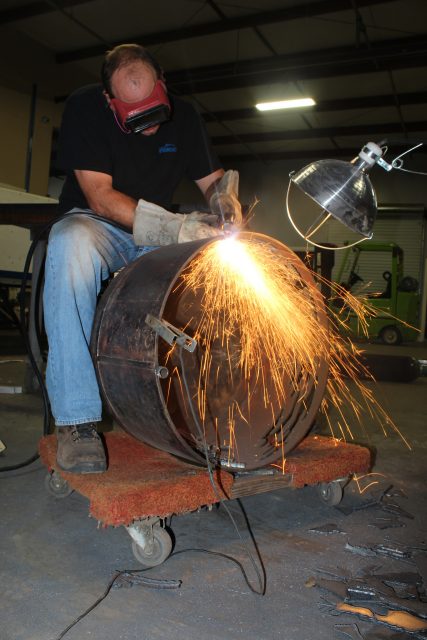 Our lineup includes treats like salsa, stuffed peppers, jams, jellies, pickles, relishes, hot sauce, pasta and pizza sauce, chocolate, fruit leather, fruit cocktail, smoked salmon, and a variety of spices and rubs. The growth of FISHBIO Brewing and the development of our own beer recipes has provided us a collection of drinkable gifts. When the holidays roll around, we'll definitely be giving assortments of highly personalized presents – and last year branded our own gift crates.
Making things in the FABLAB can sometimes take an artistic turn, and we like to encourage the creativity of our technicians. This has yielded some fish-themed metalwork for our landscaping and gates, unique inlaid concrete tables and framed bulletin boards for our offices, and fish-shaped paving stones for our garden. We love being able to put our own mark on our surroundings.
To help promote sustainability, we recently designed a Chico Bag, a reusable shopping bag that is both practical and represents the ingenuity of one of our local communities. And we've also put our brand on Klean Kanteens, another Chico-based company. The FISHBIO logo has appeared on hats and shirts in a variety of forms over the years, and our experimenting has gone to a new level as we've recently started screen printing our own designs. Our latest custom design will be debuted on the t-shirts at our 5K Sal­­­mon Run coming up this Saturday, September 24. It always makes us happy to see others sporting our logo: when we put our mark on something, we are ensuring something of high quality that can be used with pride.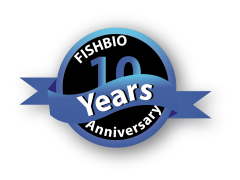 This post is one in our series FISHBIO Turns Ten! Help FISHBIO celebrate ten years by joining us for the 2016 5K Salmon Run in Chico's Bidwell Park on September 24. Register now