When FISHBIO started out 10 years ago, we didn't have much budget for watercraft – actually, make that zero budget for watercraft. But to stay afloat in our line of work, boats are as necessary as a truck for getting to our project sites. Our first boat was an inexpensive raft, like kids would use for a day at the lake – needless to say, it didn't last very long. Our first upgrade was a 10-ft. Jon boat with a small outboard motor. These small boats are portable, durable and perfect for shuttling out to rotary screw traps. We have several of these small aluminum boats that we continue to use to this day.
Our first jet boat was a used aluminum North River, perfect for traveling up and down shallow Central Valley rivers. But it wasn't long before we needed a larger vessel for mobile tracking through the Delta. A 23-ft. Northwest with an inboard-jet motor that has been perfect getting around the Delta and for deploying monitoring equipment.
After a trip to a boat show in Seattle, we knew we had to get a boat capable of handling the large swells in the San Francisco Bay, as well as short excursions out to sea. After reviewing all our options, we settled on an ACB Waverunner, a 25-ft. aluminum chambered boat that can withstand a puncture or two and remain afloat. While this boat works well in the Delta and the Bay, most of our staff will agree it is also perfect for salmon fishing along the coast.
Unable to pass up a good deal, we next purchased an Alumaweld jet-boat that previously served as a patrol boat on Lake Camanche. It was not in the best shape when we got it, but our FABLAB crew rebuilt the boat from the inside out. Since being rebuilt, this boat has been used on multiple projects including, diving in the Delta, and has even been fitted with an electrofishing system for times when we need a second e-boat. However, our primary electrofishing boat is a Smith-Root built Heavy Duty Series E-Boat.
We're not just about motorized boats – we have also been using NRS inflatable rafts and kayaks for almost as long as we have been in business. Without them, it would be impossible to navigate the remote stretches of rivers throughout the West Coast. Thanks to the growth of our small fleet, we're equipped for research on just about any inland or coastal waterway. Contact us to learn more about our boat services for your next project.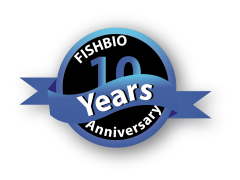 This post is one in our series FISHBIO Turns Ten! Help FISHBIO celebrate ten years by joining us for the 2016 5K Salmon Run in Chico's Bidwell Park on September 24. Register now!