. . . in one of our favorite countries and at one of our favorite places, the Tsukiji Fish Market. On previous visits we wrote about the market and Japan's insatiable appetite for tuna.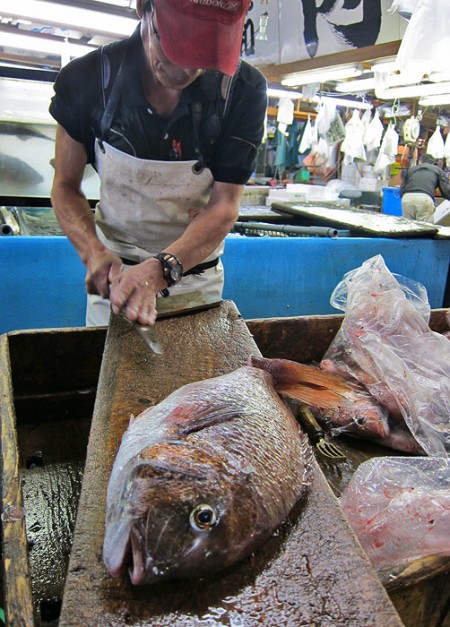 Monday marks the beginning of the 1st annual International Conference on Fish Telemetry in Sapporo, Japan, which will bring together scientists from around the world to discuss fisheries research utilizing various telemetry techniques. FISHBIO will be there to present a paper titled Hydroacoustic telemetry as a conservation tool: Integrating studies for comprehensive understanding of native species survival in California.  We arrived early to spend a few days sightseeing in Tokyo and wandering the stalls of the world's largest fish market, where we are constantly reminded of how many fish species there are in the world's oceans and how few of them we can actually identify.
This local fish monger is seen sharpening the preferred tool of his trade prior to cleaning an unlucky specimen, which will, no doubt, quickly be sold to one of the ubiquitous sushi establishments throughout Japan. Watch for more posts relating to the conference, Japan, and the fish market on our website and Facebook pages in the coming days.
Photo source: FISHBIO