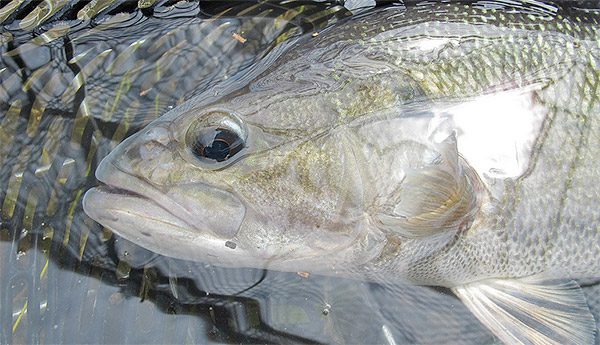 The Sacramento-San Joaquin Delta was recently awarded a spot among the top ten best black bass fishing locations in the United States — but given that black bass are not native to California, not everyone will find this distinction a cause for celebration. Bass Master magazine recently ranked the country's 100 best black bass lakes for 2013 based on state wildlife data, fisheries catch rates, and angler recommendations. The Delta garnered the number 9 slot, behind such locations as Clear Lake, California; Lake Eerie; and Lake Okeechobee, Florida. While the term "lake" might at first seem a misnomer for a tidal estuary like the Delta, we have transformed its variable habitats over the decades to a more uniform, lake-like environment, complete with an abundance of warm-water sportfishes (Moyle et al. 2010).
Black bass have a long history in California. This group includes several species: largemouth bass, smallmouth bass, redeye bass, and spotted bass. Bass were first introduced into the Delta in 1874, but have had many additional introductions over the past century. These natives of the eastern and southern United States have now been introduced to waters around the world. Although bass were intentionally stocked in new environments because of their sportfishing appeal, the same aggressive behavior that makes these fish desirable game trophies also makes them a voracious predator, and a threat to other species. Bass can disturb native ecosystems by taking a hefty bite out of native fish populations (Sanderson et al. 2009), and the largemouth bass is now considered one of the ten most invasive species that the United States has exported. Black bass are now also a large component of the most invaded estuary in the world, the Sacramento-San Joaquin Delta (Feyrer and Healey 2003).
The California Department of Fish and Wildlife (CDFW) has played a large role in developing California's world-class bass fishery, which contributes to the state's recreational economy and boasts 21 of the 25 biggest largemouth bass ever caught in the United States. As recently as the 1980s, CDFW stocked a Florida subspecies of largemouth bass (Micropterus salmoides floridanus) in California waters, which are larger, more aggressive, and faster growing than their northern relatives (Dill 1997). The CDFW issues permits for hundreds of fishing tournaments each year, and provides a Trophy Black Bass Certificate Program to recognize trophy-sized black bass anglers. The State of California now hosts more than 1,600 days of tournament fishing per year and Delta tournaments frequently produce bass over 10 pounds. In 2011, anglers caught and released more than 20,000 black bass in Delta tournaments (CDFW 2012). Given the need to restore native species in this highly altered environment where sportfishing is so popular, many people are calling for a re-evaluation of how we view and manage the Delta.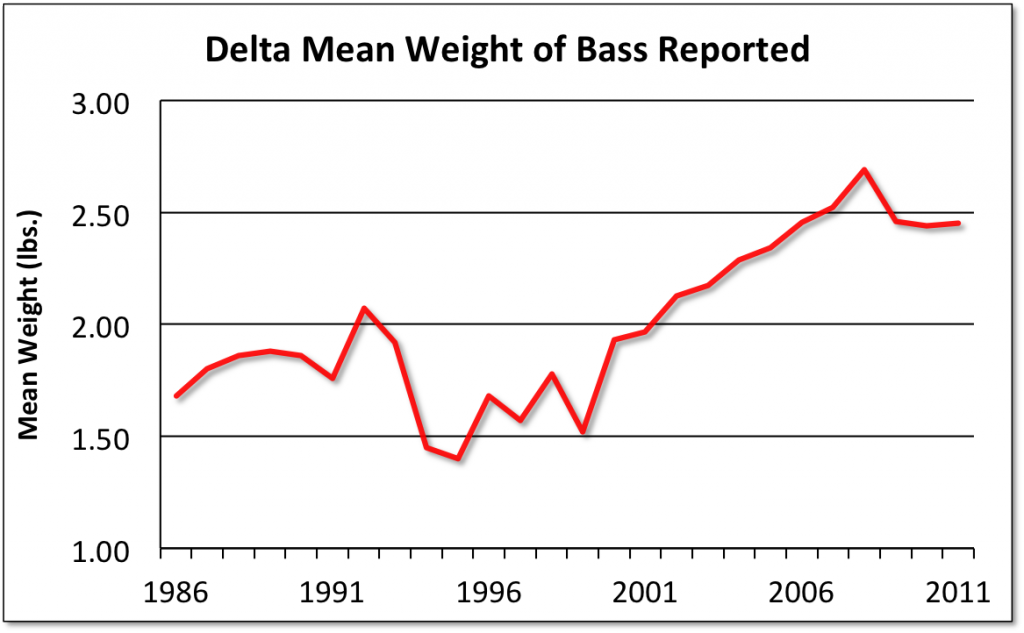 This post featured in our weekly e-newsletter, the Fish Report. You can subscribe to the Fish Report here.