Friday September 27, 2013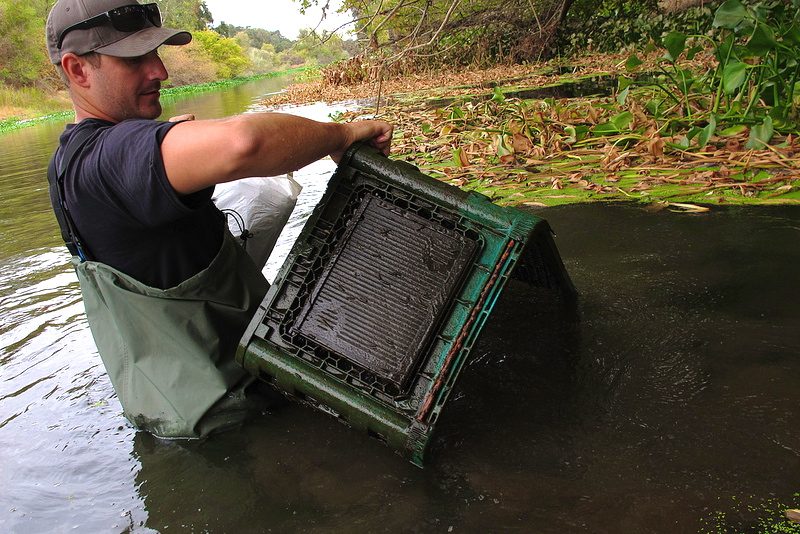 Last Saturday (September 21) was a day of many names, which all pointed to a common mission: cleaning up our local waterways. The California Coastal Commission dubbed it "Coastal Cleanup Day," while regional efforts included the "Great Sierra River Cleanup," hosted by the Sierra Nevada Conservancy, and "The Fall Clean up of the Tuolumne River Regional Parks" organized by the Tuolumne River Trust. We think the day could best be described as "California Cleanup Day," since many conservation groups and organizations throughout the state seemed to be sponsoring some sort of cleanup. In fact, FISHBIO faced a tough decision on where to contribute our efforts: three of our favorite California rivers (the Little Chico Creek, Stanislaus, and Tuolumne rivers) had planned cleanup events. So rather than picking just one river, we decided to help clean up all three!
One of our crews joined the nearly 200 volunteers who participated in the fall cleanup of Tuolumne River Regional Parks in Modesto. With nearly 10,000 pounds of trash hauled away, the effort definitely made a dent in the amount of refuse in the river. Some of the interesting items dredged up included an old pinball machine, a toilet, and many local shopping carts. We had another crew join 55 other volunteers to help collect and remove 1,300 pounds of trash from the Stanislaus River near Oakdale. One of our younger crew member's ties to the 4H and Oakdale High School service club helped make the day a success. Not to be outdone, our Chico office crew joined other volunteers to tackle the Little Chico Creek. The crew in Chico seemed intent on pulling out the biggest and most waterlogged items they could find, which included mattresses, bedding, and even a refrigerator. Since our work is dedicated to healthy, functioning river ecosystems, we're happy to do our part to keep our local rivers in good shape.