Wednesday October 22, 2014

It really is a small world after all. Although we may travel to work in distant places like Laos, we recently realized how similar things can be at home and abroad. FISHBIO has an office in Vientiane, Laos, where we have recently been working with different communities to establish freshwater protected areas, or fish conservation zones. Laos also has a big community of Hmong people, which is an ethnic group found in Laos, Thailand, Vietnam, and China. Hmong people in Laos are Lao citizens but still consider themselves Hmong, with their own religion and culture. Many Hmong immigrated to the United States in the late 1970s due to the civil war in Vietnam and Laos. Many Hmong people now live in Chico, California, where FISHBIO also has an office.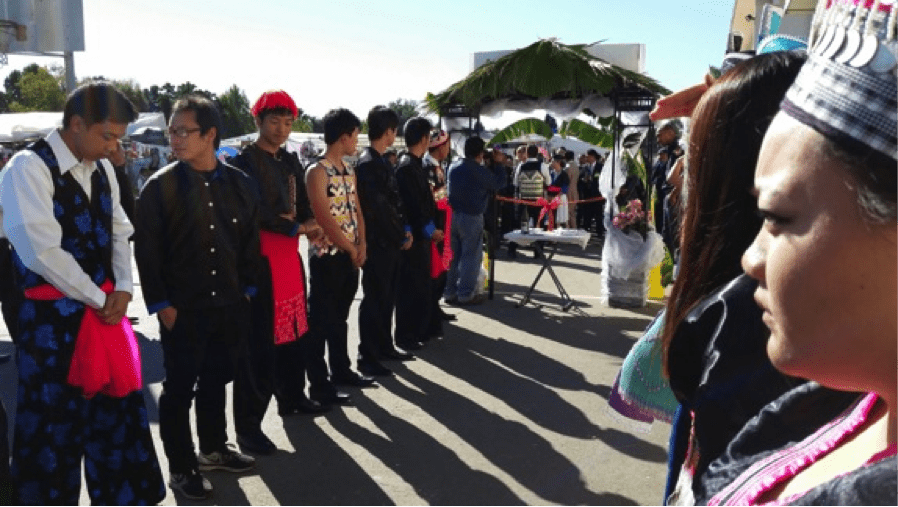 We were excited to see this cultural connection firsthand after learning about Chico's Hmong New Year Celebration on October 4. The Hmong New Year is a festival to celebrate the end of the harvest season. In the United States, the event is often a time to meet distant relatives, gather to play sports, dress in traditional clothing – and also court that special someone. Since many Hmong people live far away from each other, there are multiple New Year events between October and the first of January. In northern California, the New Year celebration starts in Chico, then travels to the cities of Oroville, Yuba City, Marysville, Sacramento, Merced, and finally Fresno. Fresno caps off the New Year with a 7-day festival, and is one of the biggest Hmong New Year events in California.


The Chico New Year opened with a ribbon cutting ceremony, where Chico Council members were invited as special guests to cut the ribbon and start the celebration. Many Hmong youths dressed up in traditional clothing to welcome the guests. The Hmong culture is quite complex and is influenced by many other cultures in Southeast Asia, as well as American culture. At the Hmong New Year, many different cultures are on display in the types of vendors that attend and the traditional clothing worn by the attendees. Dee, FISHBIO's new video and graphics designer, is also part of the Hmong community in Chico, and she gave us a tour of the New Year festival. At this table, she showed us herbal medicines that were shipped from Thailand or Laos to be sold in Chico. Although many Hmong families use Western medicine, they still use traditional herbal medicines from Laos as well.


Dee also explained the significance of different types of Hmong clothing, including her own outfit. The way her clothing is designed with these stripes indicates that she is a "striped Hmong." The Hmong people use their last names and the type of clothing they wear to differentiate between different groups. The Hmong Student Association at Chico State University also performed a fashion show modeling many different types of Hmong clothing that can be worn at a New Year festival. Nowadays, Hmong men and women are not obligated to wear the clothing of their clan, and some choose to modernize their traditional designs. Although Hmong men and women are not restricted to wearing their traditional family clothing, many still do. Overall, our visit to the Hmong New Year in Chico reminded us fondly of time we have spent in Laos. FISHBIO is excited to continue to expand our knowledge of other cultures as we continue to work in these different yet familiar environments.