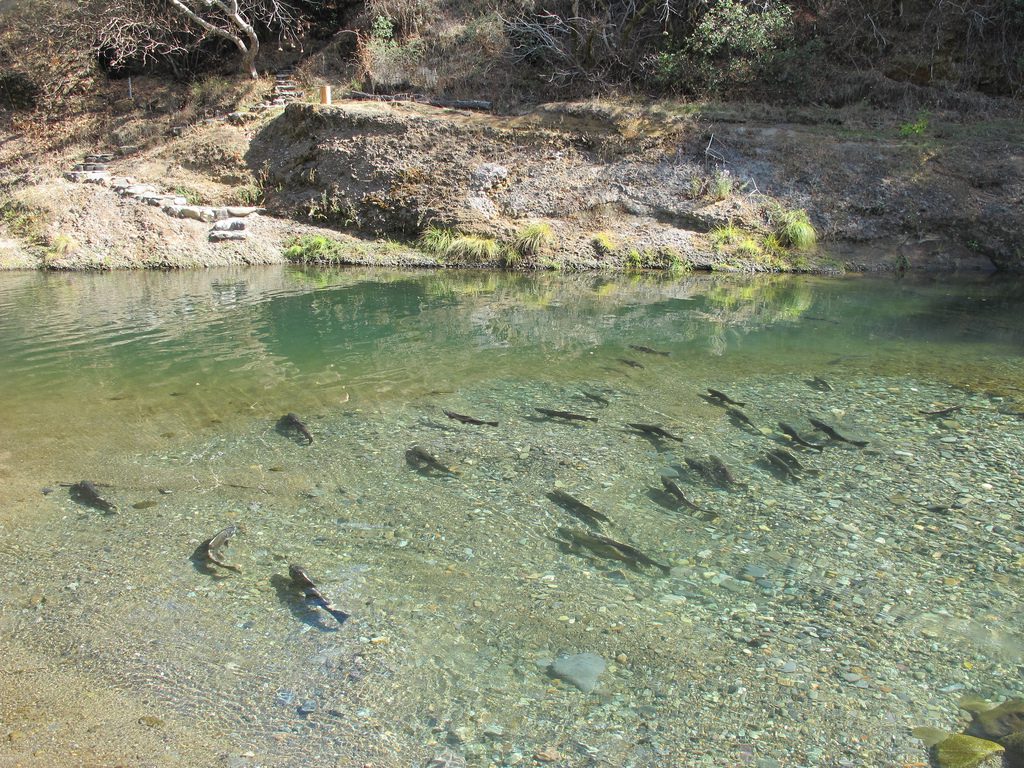 In a state where most salmon populations are a mere fraction of their historical numbers and are mostly supported by supplementation from hatcheries, the spring-run Chinook salmon of Butte Creek are an inspiring exception. Considered the largest natural spring-run Chinook population in California, thousands of salmon seek out the deep, cool pools tucked away between the steep walls of Butte Creek Canyon every year. They spend the summer in this refuge, only beginning to spawn in early fall once the scorching days of the Central Valley summer have come to an end.
Salmon returns to Butte Creek in recent years have been among the highest on record, dating back to the 1950s. However, little information exists regarding salmon abundance in the creek prior to extensive mining and development in the watershed during and after the California Gold Rush. In 2013, roughly 16,000 salmon were estimated to have returned to Butte Creek, which constitutes about 70% of all Central Valley spring -run Chinook, including those returning to Feather River Hatchery (see graph below; source: CDFW Grand Tab). The success of Butte Creek spring-run Chinook is likely attributable to a variety of factors, including extensive restoration efforts and the installation of fish ladders, water control structures, and fish screens on the majority of water diversions, representing an investment of about 35 million dollars between 1993 and 2005.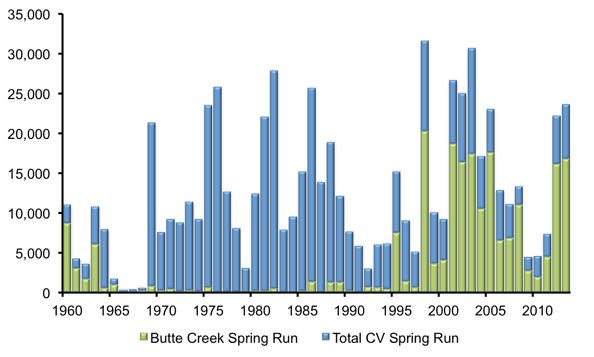 While fisheries managers, conservationists, and canyon residents alike are thrilled to witness such large returns, the sheer number of fish in a small creek creates additional challenges, particularly during times of drought. Lower flows and warmer water, in combination with a high concentration of fish, can cause additional stress for the salmon and make them more susceptible to disease. For example, in 2003, a similar number of spring-run salmon returned to Butte Creek, but about two thirds of the population perished before temperatures cooled in the fall, and only about 6,000 remained to spawn the next generation of wild Butte Creek salmon.
Though water diversion infrastructure can present barriers to fish migration, such facilities also allow for adaptive management of stream flows and temperatures. Just last year, when low flow and warm water threatened to impact the near-record number of spring-run Chinook that had returned to Butte Creek, a collaboration between PG&E, the California Department of Fish and Wildlife (CDFW), and the National Marine Fisheries Service resulted in the discharge of cold water from various storage reservoirs. This boost of water, originating from the upper reaches of Butte Creek and the West Branch of the Feather River, helped maintain adequate conditions for over-summering adults. As a result, prespawn mortality remained low, and the vast majority of salmon lived to blanket the creek's riffles with redds.
While this year's spring-run return to Butte Creek will likely be smaller than last year's, preliminary counts from a newly installed VAKI fish counting system suggest that the salmon still number in the thousands. A more detailed estimate of this year's escapement will result from snorkel surveys carried out by biologists from CDFW and PG&E, which will be taking place on a weekly basis during the hot summer months to estimate the number of returns, and to monitor fish health and prespawn mortality.
As the remaining spring-run Chinook make their way upstream to Butte Creek Canyon, we at FISHBIO want to celebrate these amazing fish and their incredible journey. On Saturday, May 24th, we will host the first annual 5K Salmon Run in Chico, CA to spotlight our local fish and rivers as part of World Fish Migration Day. We hope you can join us to appreciate the beautiful natural resources and remarkable wildlife that help make our community so special.