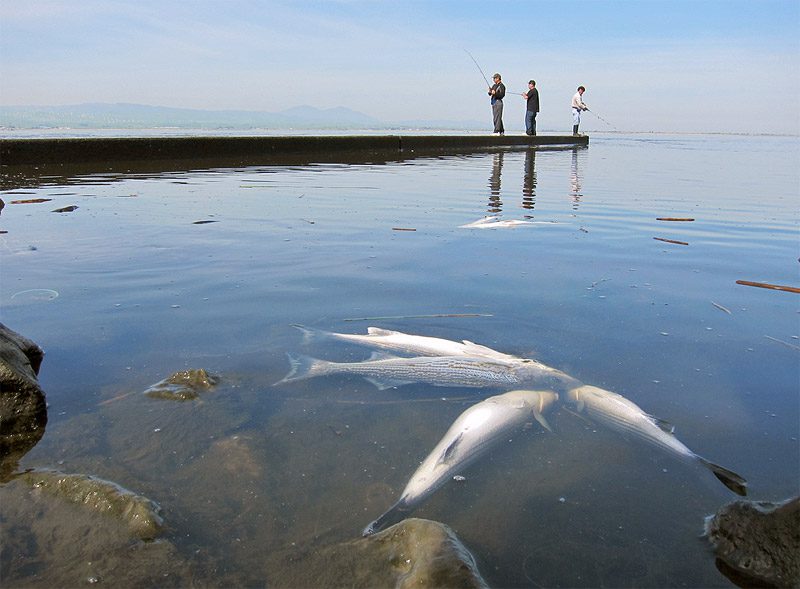 Last Wednesday (Nov. 9, 2011)  the California Department of Fish and Game (DFG) hosted a public meeting in Rio Vista to unveil proposed changes to striped bass fishing regulations. The DFG is required to make changes to the regulations under a lawsuit settlement earlier this year. The meeting was heated and emotional at times with approximately 300 in attendance, representing sport fisherman throughout the state. Many expressed their concerns over the impacts the proposed regulation might have on the future of striped bass fishing in California.
The lawsuit by the Coalition for a Sustainable Delta against the DFG was settled in April 2011. Under the settlement, a comprehensive proposal to address striped bass predation in the Delta must be developed by state and federal fishery management agencies. As part of the settlement DFG must make appropriate changes to the bag limit and size limit regulations to reduce striped bass predation on the listed species, develop an adaptive management plan to research and monitor the overall effects on striped bass abundance, and create a $1 million research program focused on predation of protected species.
The striped bass regulations include raising the daily bag limit for striped bass from 2 to 6 fish with a possession limit of 12, and lowering the minimum size for striped bass from 18 to 12 inches. There will also be a "hot spot" for striped bass fishing at Clifton Court Forebay with a daily bag limit of 20 fish, a possession limit of 40 fish and no size limit. Fishing the hot spot will require a report card to be filled out and deposited it in an iron ranger or similar receptacle.
These proposed regulations are not designed to extirpate the striped bass population in California, but are expected to help reduce predation pressure by striped bass on native salmonids and Delta smelt. There are multiple factors, such as diversion facilities, loss of habitat, water quality and predation that have adverse effects on endangered fish in the Delta. In order to address recent declines in salmonid and Delta smelt populations various changes in management practices have been implemented. These practices include, the Biological Opinions on the long-term operations of the Central Valley Project and State Water Project, the Central Valley Project Improvement Act (CVPIA), Total Maximum Daily Load (TMDL) requirements and state and federal fishing regulations. The proposed striped bass reduction plan would join the line up of controversial policies aimed at minimizing the effects of these potential stressors.
Editors Note: On February 2, 2012, the California Fish and Game Commission rejected the proposed changes to striped bass regulations described above. Find information about current California fishing regulations here.