In recognition of World Water Day, we thought it relevant to revisit the drought situation in California. Although we have received a dose of precipitation over the last couple of weeks, it has done very little to curb the state's drought status. According to the United States Drought Monitor, 93% of the state is still in severe drought or worse, but now 22% of the state has been downgraded to an "exceptional drought," the worst classification. Exceptional droughts are associated with widespread crop and pasture losses and shortages of water in reservoirs, streams and wells, which create water emergencies.
Over the past month a series of storms delivered rain and snow across the Sierra Nevada, but certainly not enough to ease drought concerns. The Northern Sierra 8-Station Index has improved to 53% of average, slightly higher than the two driest water years in recent history (1923-1924 and 1976-1977). The San Joaquin Index remains slightly below the record driest years, with just 42% of average precipitation.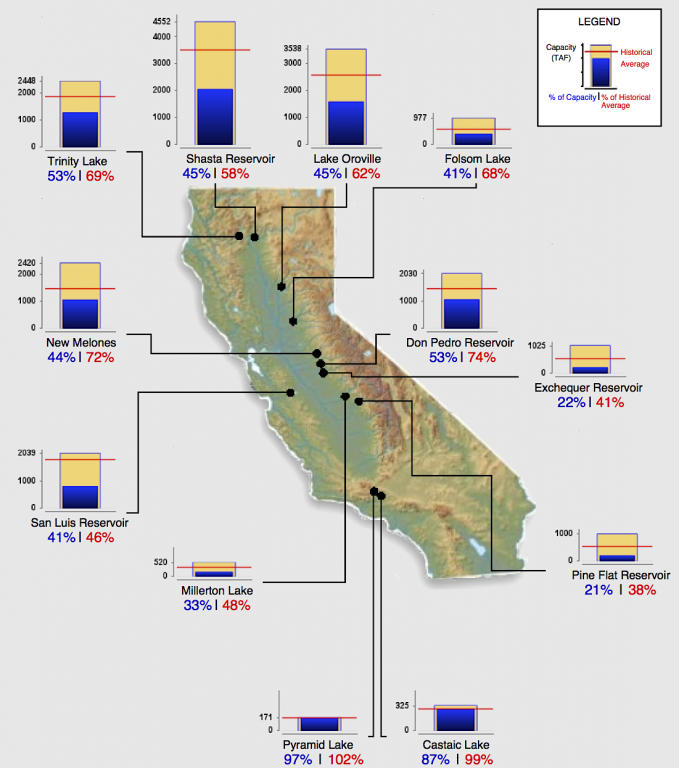 While the recent storms have increased storage in some reservoirs like Folsom Lake, now at 68% of average, most reservoirs are well below historical averages. The largest water reservoir in the state is the Sierra snowpack. Snow water equivalents are only 17% of average for the Northern Sierra region, 32% for the Central Sierra region, and 29% in the Southern Sierra region. Statewide, the water equivalent of the snowpack is 27% of average and 26% of the April 1st average. This means that mountain runoff that normally peaks in late June will come earlier this year and will bring much less water to our reservoirs.
When we last reported on the California drought (see Extreme drought by the numbers), we highlighted tree ring reconstructions that point to long periods of extreme historic droughts. Just last month, the California Department of Water Resources released a report called Klamath/San Joaquin/Sacramento Hydroclimatic Reconstructions from Tree Rings. It confirms the results of earlier studies that we previously reported, showing there have been past dry periods up to decades in length.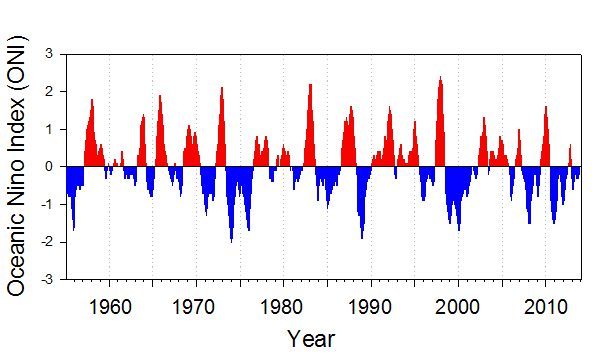 However, a change in the weather pattern may be on the horizon. The National Oceanic and Atmospheric Administration (NOAA) Climate Prediction Center has recently forecasted a 50% chance of El Niño conditions developing by August of this year. If this occurs, we may be in store for drought-ending rainfall, but there are no guarantees. In four of the six strong El Niño years since 1951, rainfall between Bakersfield and the Bay Area was at least 140% of normal, including 1982-83 when extensive flooding occurred. If a moderate El Niño occurs, rainfall may be at or below normal. For example, in 2002 precipitation was 103% of normal, but in 1986 it was just 60% of normal. With the odds at no better than a coin toss for an El Niño occurring, it is probably wisest for us to continue to conserve water with the expectation that drought conditions will continue into next year.
This post featured in our weekly e-newsletter, the Fish Report. You can subscribe to the Fish Report here.