Wednesday January 18, 2017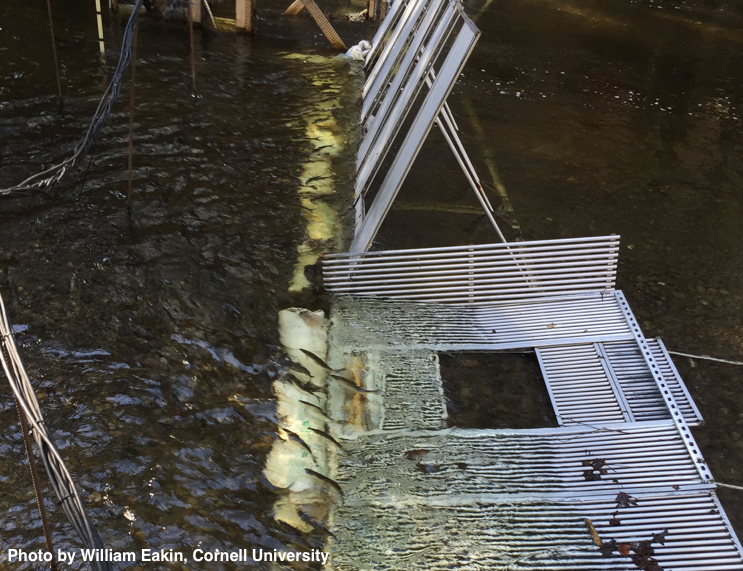 FISHBIO fabricators have adapted their weir building skills to suit a new species for our team: herring. We designed a novel custom rigid weir that was portable, adaptable, and adjustable to varying downstream passage designs. This particular prototype was funded by the New York Department of Environmental Conservation (NYSDEC) with the intention of monitoring river herring on Black Creek, a tributary to the Hudson River, more effectively and efficiently than in the past. NYSDEC and Cornell University biologists installed the custom rigid weir with an electronic counter to monitor blueback and alewife herring migrating up Black Creek to spawn, and recently sent us an update on the weir's performance.


The custom weir and electronic counter enumerated a total of 483,555 herring during the 2016 monitoring season. The team reported that the new custom rigid weir design allowed for more effective direction of river flow towards the electronic counter, which helped attract herring. Unlike salmon, herring can spawn multiple times in their life, and the design increased the ability of herring to migrate back downstream after spawning. The weir also reduced the team's equipment maintenance time by approximately 63 percent, saving them about two and a half hours during each maintenance visit. The weir was able to monitor at higher flows than in the past while resisting damage to its components, and prevented scouring that typically occurs during high flow events, which also reduced damage to the stream. It's safe to say that the custom rigid weir met or exceeded expectations, and proved to be an innovative solution for this novel monitoring challenge.