Wednesday August 26, 2015

In early August, a member of FISHBIO's Mekong team headed to the 27th International Congress for Conservation Biology in Montpellier, France, to present a poster on our ongoing Fish Conservation Zone (FCZ) work in Northern Laos. Hosted by the Society for Conservation Biology and attended by over 2,000 conservation researchers and practioners from around the world, the event was possibly one of the largest ever gatherings dedicated to conservation science. We were excited to use this venue to talk about the participatory establishment of community-managed freshwater protected areas known as Fish Conservation Zones (FCZs). Sine 2013, FISHBIO has worked in collaboration with IUCN Lao PDR and three small communities on the border of Luang Prabang and Xayabouri provinces to protect important habitat for endangered fishes. This work is funded by the Critical Ecosystem Partnership Fund (CEPF), which has designated the Mekong River and its tributaries as a priority area of investment for conservation.
Our poster described three FCZs on the Mekong River that were established to protect areas of critical habitat for Jullien's golden carp (Probarbus jullieni), a CEPF priority species listed as endangered on the IUCN Red List. The FCZs are managed by partner communities, which FISHBIO assisted in drafting FCZ regulatory documents and forming patrol teams tasked with enforcing the protected areas. This process aims to not only protect endangered species but also improve local capacity for the management of all fish stocks that provide an important protein source for the communities.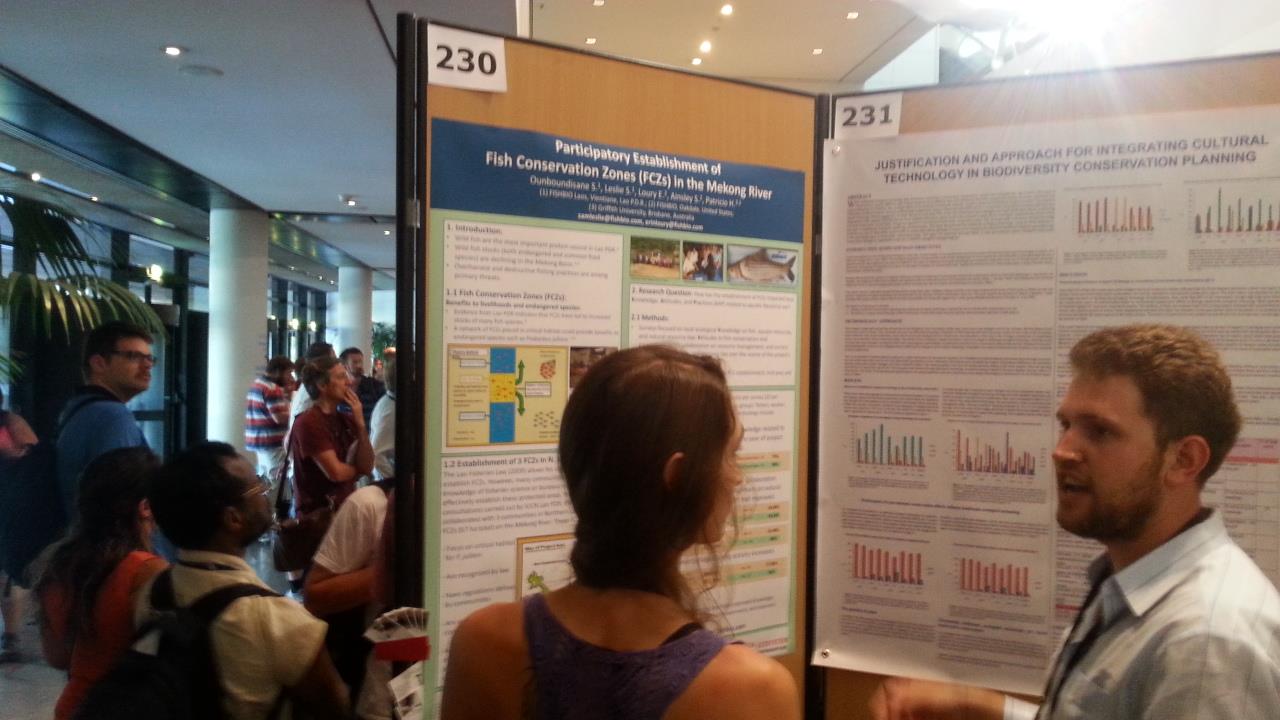 As a way to measure the project's impact, we conducted surveys of local Knowledge, Attitudes, and Practices (K.A.P.) before and after one year of the project's initiation. These surveys sought to measure the impact of the project on local people's awareness of aquatic resource topics, and to measure shifts in management response to illegal fishing. The surveys revealed an overall increase in knowledge and favorable attitudes towards aquatic resources and their management, and also demonstrated increased cooperation between local communities and district-level officials to ensure the protection and lawful use of community managed natural resources.
These survey results were presented at ICCB to demonstrate the preliminary positive outcomes of the FCZ project, and to provide guidance for other organizations assisting communities in freshwater protected area establishment. Presenting the KAP survey findings and the overall aims of the FCZ project facilitated many productive conversations about community-level natural resource management with groups working across Southeast Asia, in nearby India and China, and farther afield in Madagascar and Benin. As both an opportunity to learn and provide guidance, the 27th ICCB offered FISHBIO an excellent venue to share the preliminary success of the FCZ program.