Wednesday August 10, 2022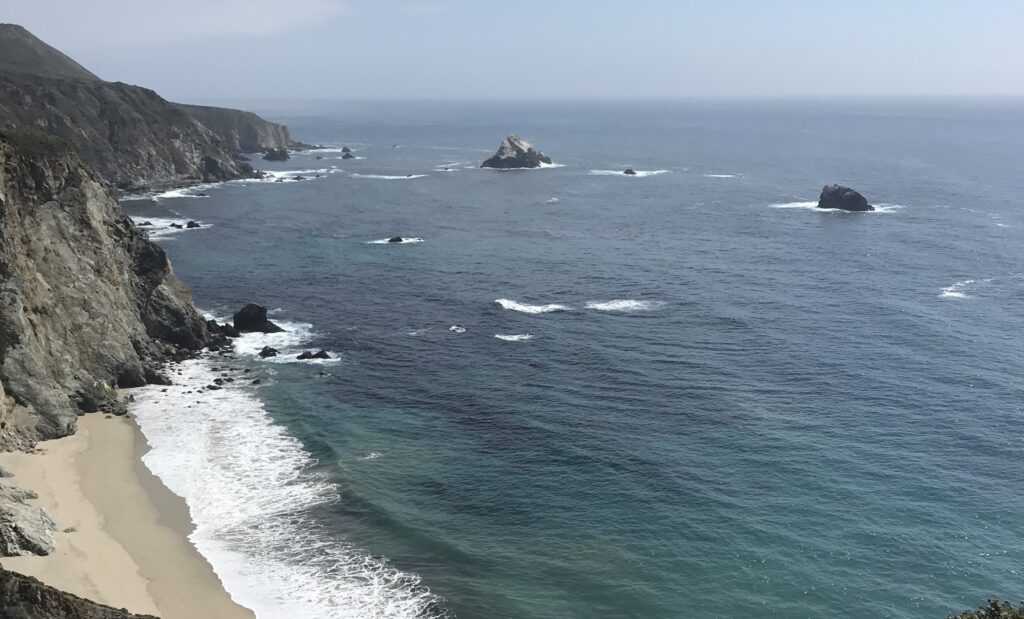 Powerful waves crashing against craggy cliffs continually batter new contours into California's rugged shoreline. Just like wind and waves shape this iconic coast, multiple factors also influence the management and planning of California's marine protected area (MPA) network, which will be undergoing an expansion over the next decade. The three types of MPAs in the state fall under the broader category of marine managed areas (MMAs). These include state marine reserves that only allow permitted activities (e.g., research, monitoring, restoration), state marine parks that only allow non-commercial fishing, and state marine conservation areas that allow a combination of activities (Table 1). Other MMAs include state marine recreational management areas that allow recreational fishing, special closures that allow no access to protect areas used by nesting birds and resting marine mammals, and marine life refuges that only allow access with research permits. To help communicate these rules, the California Department of Fish & Wildlife made an interactive map showing where people can fish. Although their regulations differ, each MMA category supports the same basic function of conserving coastal marine resources by designating how they are used.
Table 1. The six marine managed area (MMA) categories in California, which include three types of marine protected areas (MPAs)*.
| | |
| --- | --- |
| MMA Category | Allowable Use of Marine Resources |
| State Marine Reserve* | Research, monitoring, & restoration |
| State Marine Park* | Non-commercial fishing (e.g., recreational, research, education) |
| State Marine Conservation Area* | Research, education, certain commercial & certain recreational fishing |
| State Marine Recreational Management Area | Recreational fishing |
| Special Closure | No access/boating near bird nesting & marine mammal resting areas |
| Marine Life Refuge | Only permitted with research permits |
The formation and evaluation of MMAs is driven by a variety of global, national, and state policies. For example, the Global Deal for Nature (GDN) is a "time-bound" science plan formed by researchers in April 2019 that complements the Paris Climate Agreement to reduce climate change impacts and biodiversity losses around the world. In July 2021, the GDN led the United Nations Global Convention on Biological Diversity to recognize the need to protect 30% of the earth's land and water by 2030 in the first draft of its Post-2020 Global Biodiversity Framework. Future drafts of this framework are developing from an ongoing series of meetings. Prior to these meetings, in October 2020, California's governor signed an executive order that sparked the "30×30 Initiative," which recognizes the need for 30% of the state's land and water to be protected by 2030. Later, in late January 2021, the U.S. President signed a federal executive order that also requires steps to protect 30% of land and water in the nation by 2030. Based on these orders, the 16% of California's waters that are currently within 124 MMAs, an area of 852 square miles, may be expanded to about 1,586 total square miles via regular meetings with stakeholders (e.g., tribes, commercial and recreational fishers, scientists). Currently, the California Department of Fish & Wildlife is independently evaluating the current MMA network under the MPA Decadal Management Review, which will be completed in December 2022. Expansion of MMAs under the 30×30 Initiative will then occur after the state's Fish & Game Commission directs next steps for the Department in February 2023.
These changes to California's MMA network will conserve biodiversity by shaping how people can use marine resources. Communication materials from five state agencies make it possible for interested people to learn how MMA policies may affect them, and how they can take part in policymaking. The California Natural Resources Agency (CRNA) leads four other agencies: the California Fish & Game Commission (FGC), the California Department of Fish & Wildlife (CDFW), the California Coastal Commission (CCC), and the Ocean Protection Council (OPC). The CNRA shares its work and important news by email on "The Buzz" and also on its "Nature Works Blog." The FGC newsletter shares regulatory news with its email list, while information on meetings is posted on the "Public Participation in Public Meetings" page. The CDFW lists most of its ocean-related updates on the "Marine Management News" blog, and highlights fisheries developments on the "News Room." Both blogs offer respective email subscriptions. The OPC provides updates on its "Latest News" site and its emailing list, while maintaining its "Meeting Agendas & Materials" website. Stakeholder engagement is an important part of natural resource management, and providing public comments at meetings is an opportunity for stakeholders to offer perspectives on how they may be affected by the planned expansion of the statewide MMA network, while the various communication outlets listed here offer a way to stay informed of the process.
This story was written by William Ware, an alumnus of the UC Santa Cruz Coastal Science and Policy Program, as part of a capstone project with FISHBIO.