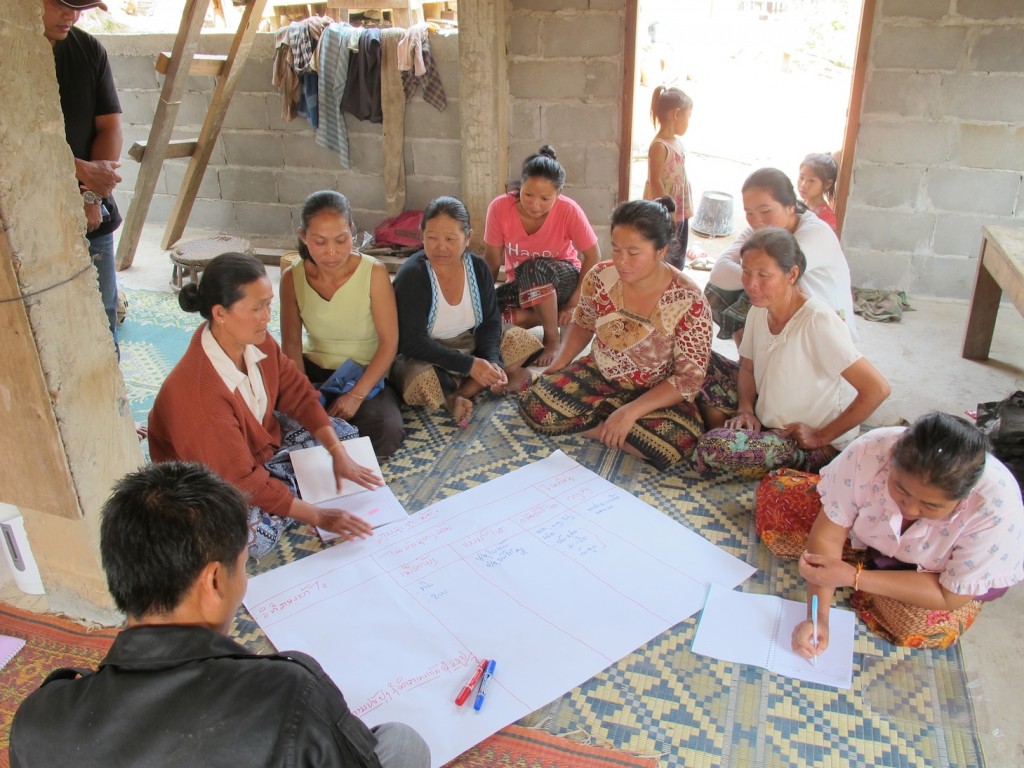 The Mekong River has the second highest fish biodiversity of any river in the world, as well as one of the most productive fisheries, which the people of the Mekong Basin highly depend on for food security. In Lao PDR, fish account for the majority of protein intake for rural people, and also provide a much-needed source of income. However, the past few decades have seen a rapid decline in fish stocks throughout the country. Overfishing, especially through the use of explosives and electrofishing, is considered to be the major cause of decline. One strategy increasingly adopted to address this threat is the creation of no-fishing areas called Fish Conservation Zones (FCZs). FISHBIO is pleased to announce our recent receipt of a grant from the Critical Ecosystems Partnership Fund for a project titled "Establishing co-managed Fish Conservation Zones to help communities protect endangered Probarbus fishes in the mainstem Mekong River of northern Lao PDR." This project aims to protect important spawning areas for endangered fish species, as well as to increase the catch of non-protected species, thereby improving livelihoods for local communities.
In the spring of 2013, The International Union for the Conservation of Nature (IUCN) Lao PDR hired FISHBIO to consult on aquatic resource management, including the planning of FCZ establishment, as part of a CEPF-sponsored project, "Conserving Biodiversity and Sustaining Livelihoods along the Mekong River in Luang Prabang, Xayabouri and Vientiane Provinces, Laos." During this time, FISHBIO and IUCN staff organized participatory workshops in villages, developed questionnaires for fishers, surveyed proposed FCZ sites, and consulted with all levels of government to draft FCZ regulations based on suggestions from the participating communities.
The locations of the FCZs were chosen based on livelihood assessments and biodiversity surveys, which helped identify spawning and resting areas for Probarbus jullieni (Jullien's Golden Carp) as areas important to both biodiversity and local subsistence. In the coming months, FISHBIO will organize final workshops with government officials and stakeholders to finalize the FCZ regulations and put them into effect. Signboards demarcating FCZ boundaries and these regulations will be installed. With coordination from district police, FCZ enforcement teams consisting of local resource users and village level police will be trained and begin patrolling the newly protected sections of river. Throughout the process, community members will work with FISHBIO to ensure that any possible negative impacts are addressed and mitigated. Local people will also be surveyed regularly to ensure their wishes and viewpoints for natural resource conservation are taken into account. 
FCZs have been implemented around the world in both freshwater and marine systems. By excluding fishing from habitat areas critical to spawning or migration, fish populations are able to reproduce and then repopulate areas outside the FCZ. This strategy has been shown to not only increase numbers of declining populations, but to also increase general fish biomass (Roberts et al. 2001). Therefore, FCZs can address both the goals of protecting biodiversity and increasing food security. FCZs are gaining popularity as a conservation tool in Lao PDR and more are being created every year; however, management and enforcement challenges remain. In a country where fish are so important to rural livelihoods, there is a clear need to ensure the involvement of communities and resource users in all steps of FCZ design and implementation. One of the goals of FISHBIO's project is to build the capacity of local communities to oversee the sustainable management of their aquatic resources.
The Critical Ecosystem Partnership Fund is a joint initiative of l'Agence Française de Développement, Conservation International, the European Union, the Global Environment Facility, the Government of Japan, the MacArthur Foundation and the World Bank. A fundamental goal is to ensure civil society is engaged in biodiversity conservation.
This post featured in our weekly e-newsletter, the Fish Report. You can subscribe to the Fish Report here.