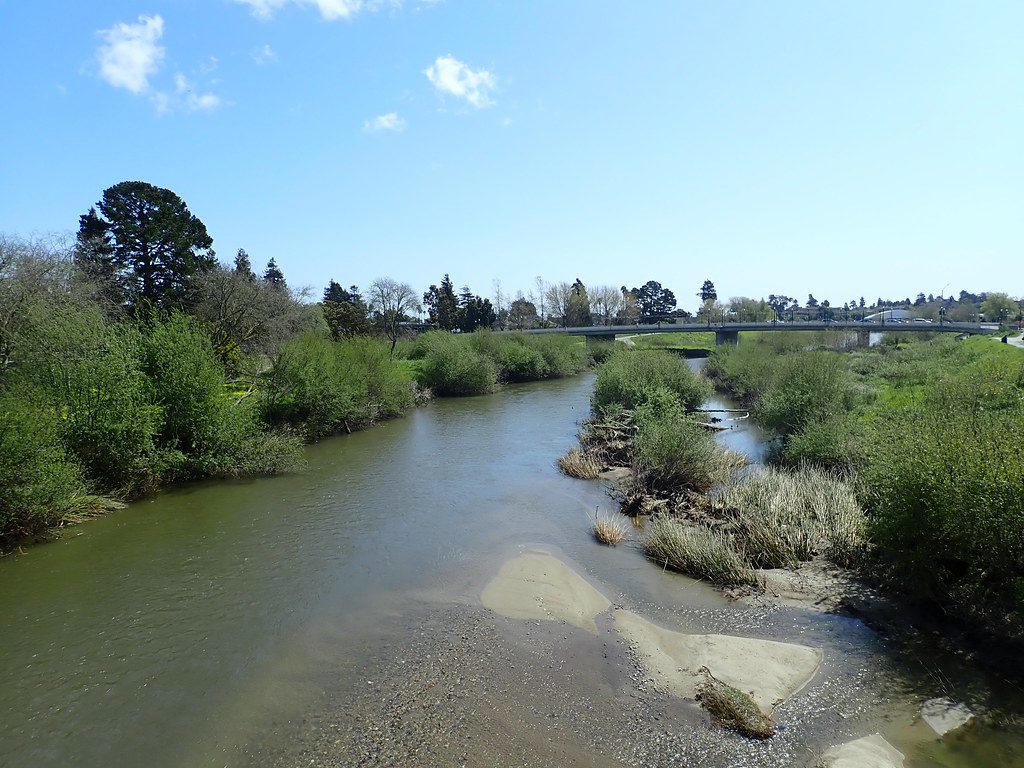 In the shade of the redwoods, a mere stone's throw away from Lompico Creek, interested citizens, agencies, and organizations gathered on February 29, 2020, for the State of the San Lorenzo Symposium. This annual meeting provides an update on research, conservation, and management in Santa Cruz's local watershed. Since last year's meeting was held near where the San Lorenzo River meets the sea, this year's symposium took place in the upper watershed in the Santa Cruz Mountains. Presentations described new developments within the watershed, ongoing efforts to manage and restore habitats, challenges with invasive species, insights from monitoring programs, and the many unique animals that call the San Lorenzo home.
Since this year marked the first since 1862 that not a single drop of rain fell in Santa Cruz County during the month of February, efforts to sustainably manage water were at the forefront of the conversation. The symposium kicked off with an introduction from County Supervisor Bruce McPherson, who discussed the ongoing work to develop sustainable groundwater management plans for each of the two groundwater basins within Santa Cruz County. The recent Sustainable Groundwater Management Act (SGMA) requires water users to develop such plans, and a draft plan from the Santa Margarita Groundwater Agency, which includes the City of Santa Cruz, is slated for completion by January of 2022. Chris Coburn, Deputy Director of the City of Santa Cruz Water Department, then described the City's water quality monitoring program. Because of the flashy nature of the river, which in 2019 went from a trickling low flow of just four cubic feet per second (cfs) to a torrential high of 9,000 cfs, the quality of its water varies significantly over the seasons. However, chemical testing indicates extremely low contaminant levels, and planned upgrades to the water treatment plant will help to ensure continued water quality in the face of climate change-driven storms and droughts.
Shifting gears to the flora of the watershed, Tim Hyland from California State Parks discussed the challenges posed by invasive plants. These invaders don't have natural enemies to control their growth and spread, and frequently force out native species. State Parks works to control these interloping plants, but everyone can help in the continued fight by planting native and removing non-native species on their property. The discussion of plants continued with State Parks employee David Cowman, who is a member of the Santa Cruz burn team. This group works to actively reintroduce fire into the ecosystem, thereby helping to improve nutrient recycling, create habitat, eliminate pests, and reduce wildfire risk. Their burns take place in multiple parks in the region, including those in the San Lorenzo watershed like Henry Cowell Redwoods. Conducting prescribed burns is a challenge, as it requires specific humidity, temperature, and wind speed, but these burns are invaluable for maintaining native habitats and forest health. News on past and upcoming burns can be found on the group's Facebook page.
Moving from flora to fauna, Mike Westphal of the Bureau of Land Management presented on the amazing amphibians of the San Lorenzo. The watershed is home to five species of frog and seven species of salamander, including the endangered California red-legged frog (Rana draytonii) and foothill yellow-legged frog (Rana boylii), as well as the very rare and elusive black salamander (Aneides flavipunctatus). He also discussed efforts to control invasive bullfrogs (Lithobates catesbeianus), whose big appetites present a serious threat to native species. County biologist Kristen Kittleson discussed efforts to monitor steelhead (Oncorhynchus mykiss) populations throughout the San Lorenzo. Data from these surveys is now available to the public via a new website, where an interactive toolkit allows users to explore maps of species detections and fish abundance over time. Finally, Resource Conservation District of Santa Cruz Executive Director Lisa Lurie presented on restoration projects that have reintroduced large woody debris in upper Zayante Creek, a tributary of the San Lorenzo. Their team installed 18 large wood structures in a one-mile stretch of the creek, and ongoing monitoring will evaluate whether this improves conditions for spawning adult and rearing juvenile steelhead.
Now that March storms have ended the dry spell, at least for a time, the San Lorenzo is once again flowing swiftly through the heart of Santa Cruz. Although the system faces many challenges from a growing human population and a changing climate, residents can rest assured that scientists and managers are continuing to monitor, conserve, and restore this unique and important watershed.
This post featured in our weekly e-newsletter, the Fish Report. You can subscribe to the Fish Report here.