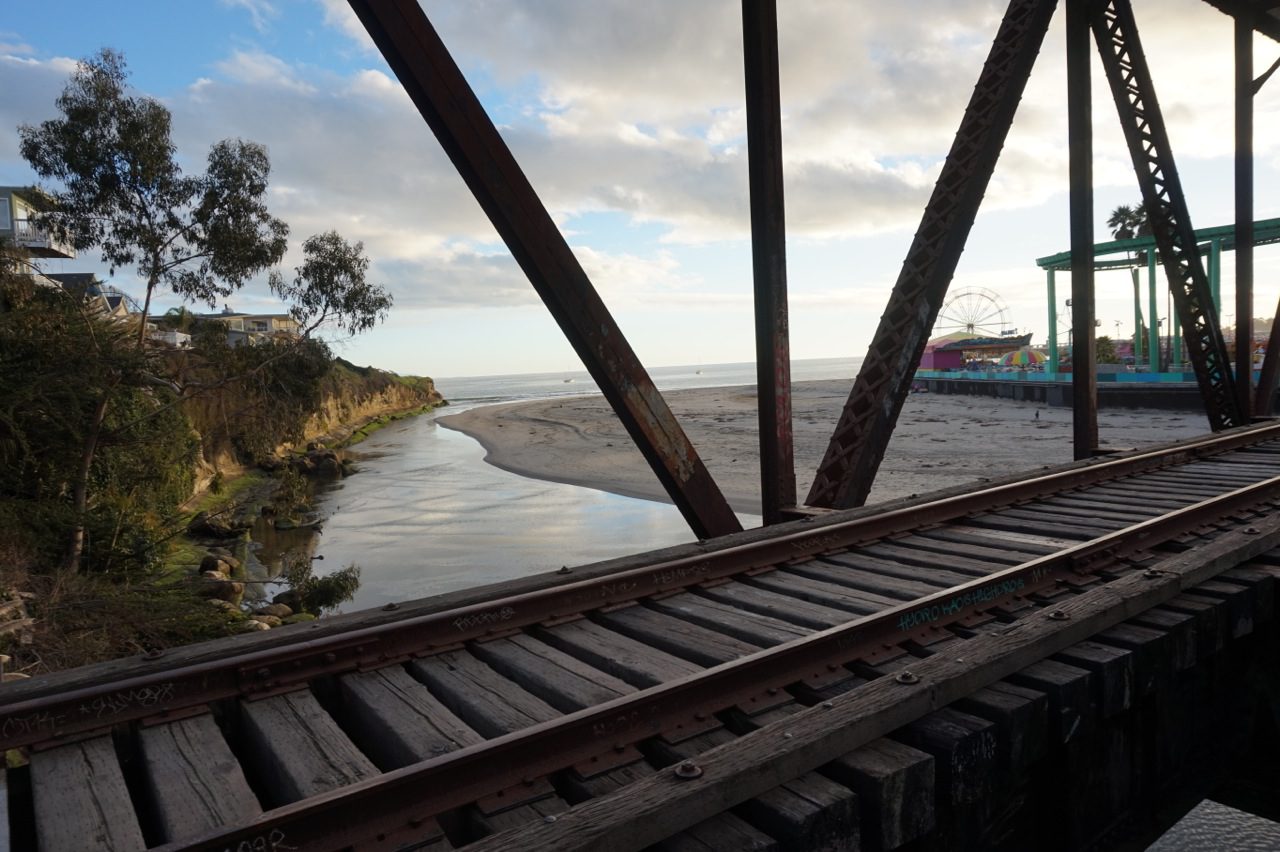 The Monterey Bay on California's Central Coast is surrounded by a number of watersheds that create a blending of fresh and salt water where (and when) they empty into the bay. Major rivers that flow to Monterey Bay include the San Lorenzo, Pajaro, Salinas, and Carmel rivers, Elkhorn Slough, and a number of coastal creeks and streams. The San Lorenzo River flows about 29 miles through the redwood-forested Santa Cruz Mountains, alongside downtown Santa Cruz, and past the iconic Santa Cruz Beach Boardwalk. A few blocks from where this river sometimes meets the sea, FISHBIO has opened up our newest office in Santa Cruz.
Like its neighboring coastal rivers, the San Lorenzo is not always connected to the ocean. When the river's flow slows down in the summer, a sand bar typically builds up between the river and the ocean, creating a shallow lagoon. This warm and shallow water is an important rearing habitat for many juvenile fish, including threatened Central California Coast steelhead. Breaching the lagoon, when either a good storm or some human assistance breaks through the sandbar, can lead to young fish getting swept to sea too soon if it occurs out of season. A sign posted on the railroad trestle bridge crossing over the river informs the public that "Breaching This Lagoon Can Kill Fish."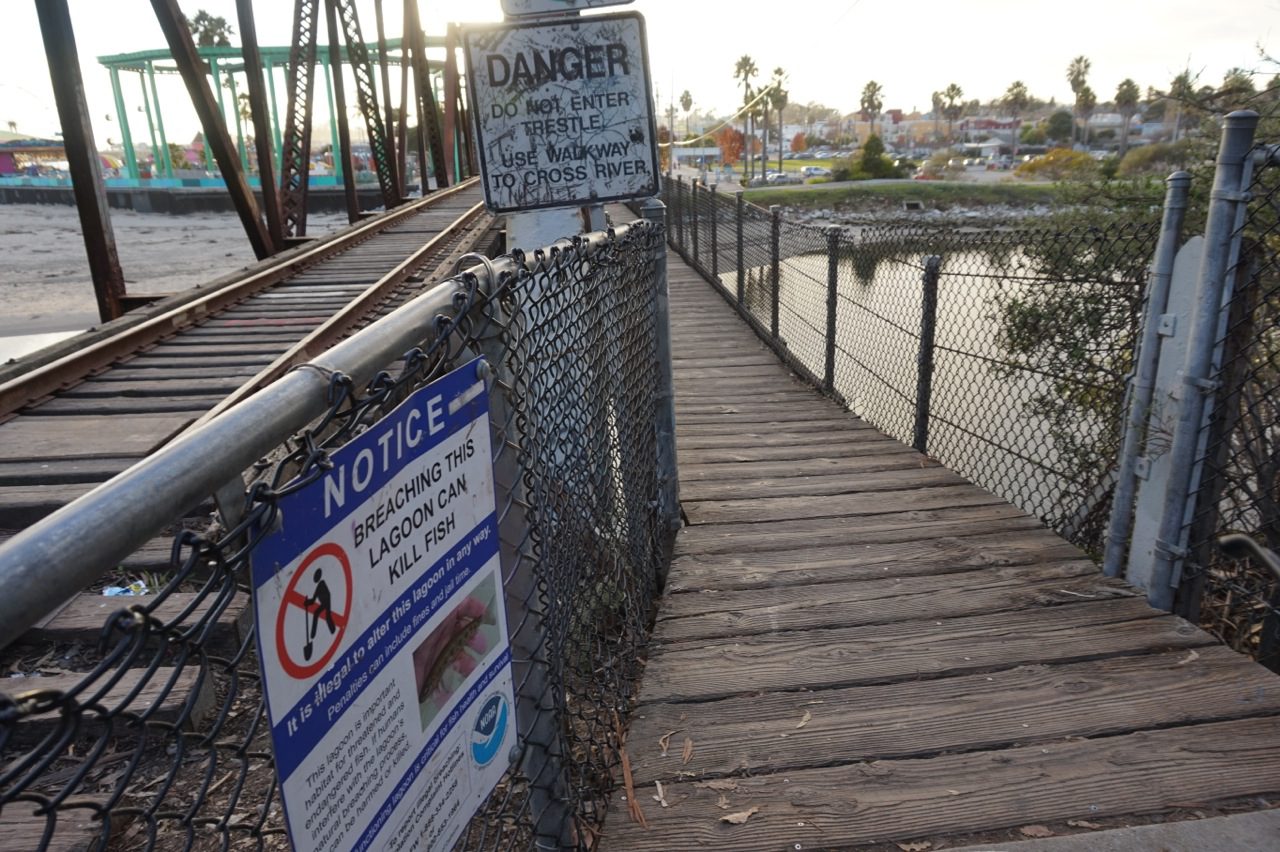 Our staff in Santa Cruz see this sign while biking to work over the bridge, as well as a view of the river and ocean meeting, which is a fitting metaphor for our new office. We realized that opening an office in Santa Cruz makes sense given the variety of projects FISHBIO has conducted around Monterey Bay and San Francisco Bay. FISHBIO currently conducts long-term fish monitoring for the Monterey County Water Resources Agency on the Salinas River and its tributaries, such as the Arroyo Seco. This past year, we also constructed a number of antennas for the Nature Conservancy to use on the Salinas River. We've also completed a few projects on the Carmel River, and have worked on Scott Creek in the Santa Cruz mountains to develop a decision-making tool for designing lifecycle monitoring studies for salmonids. In the coming year, we look forward to laying the groundwork for a new project in the South San Francisco Bay Area.
Our Santa Cruz office is staffed by fisheries biologists with marine science backgrounds, who have adapted well to FISHBIO's mostly freshwater world, but who are also itching to draw on their salty roots. They attended graduate school in the area and are happy to now be living and working in this special region. You can expect to see more stories about the various Monterey Bay watersheds and a mix of some coastal and ocean themes on our blog this coming year. Our new office is conveniently (dare we say, strategically?) located over the Seabright Brewery, just blocks from both the beach and the San Lorenzo River. If you're ever in the area, we welcome you to drop us a line and say hello.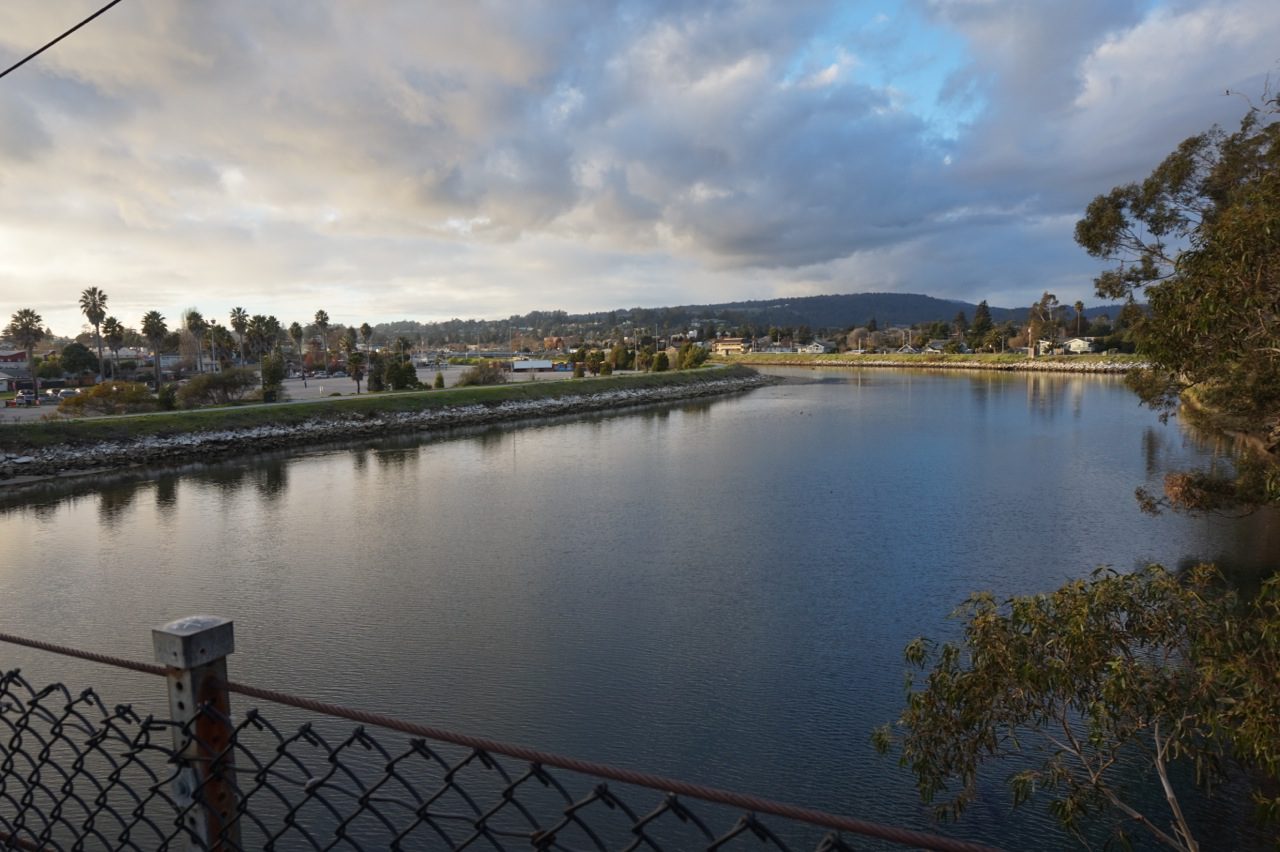 This post featured in our weekly e-newsletter, the Fish Report. You can subscribe to the Fish Report here.