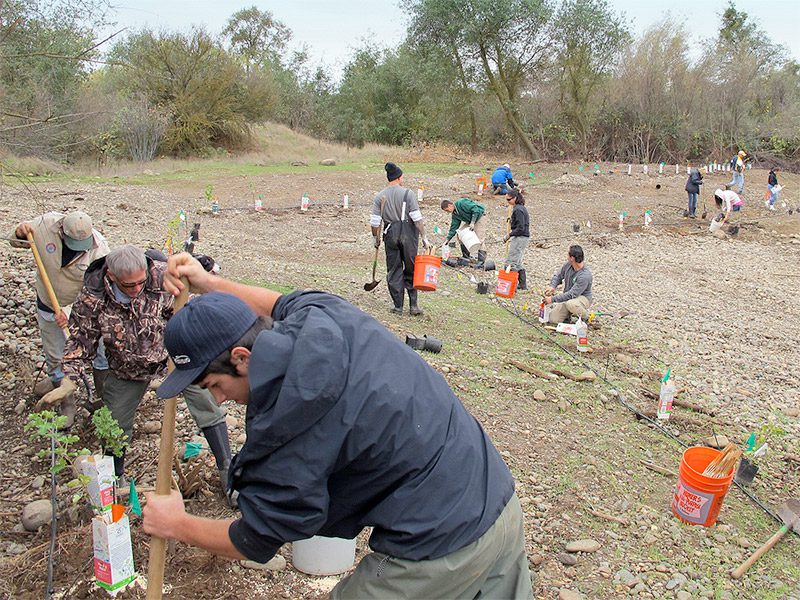 Do you like working outdoors? Want to help restore important fish habitat on the Stanislaus River? FISHBIO and River Partners are looking for volunteers to plant native trees at Honolulu Bar on Saturday, January 26, from 10 am to 1 pm. All the planting tools will be provided, along with drinks and snacks. We recommend bringing work gloves and rubber boots, since we'll be wading across a shallow channel to get to the planting site. There will be waders or hipboots available for anyone who doesn't have boots.
Volunteers will get to see the handiwork of our latest restoration project first hand. The lower Stanislaus River is crucial habitat for steelhead trout and fall-run Chinook salmon. But during the Gold Rush, dredges destroyed many of the large stretches of silt-free gravel that the fishes need to spawn and their eggs need to develop. Last year, we completed a project with the Oakdale Irrigation District, the U.S. Fish and Wildlife Service, CBEC, and River Partners to restore the floodplain at Honolulu Bar (see Restoration complete). We used some heavy machinery to level the steeply sloped banks of the island so water could flood over it, and hauled gravel to replenish spawning beds. We also cleared invasive vegetation that had taken over the site, such as tree-of-heaven and Himalayan blackberry (see On the invasive species battlefield). Now it's time to replant native species that belong in this riparian habitat.
You can help us plant more than 100 cuttings of black willow, sandbar willow, and cottonwood trees. Native plants like these play many important roles in keeping river ecosystems healthy. They shade the water and keep it cool, stabilize the bank, filter sediments, and provide habitat for the insects that young salmonids eat. So plant a tree, help a salmon. We will be meeting at the Honolulu Bar Recreation Area in Stanislaus River Parks. For more information, please contact Jason Guignard at jasonguignard@fishbio.com.