One of the best adult fish counting technologies is the Riverwatcher Fish Counter, which we have used for the past ten years to collect data on salmon and other fish species as they migrate upstream. In fact, we have had such great success using the Riverwatcher that FISHBIO teamed with Vaki in 2010 to sell and service Riverwatchers in North America and to also provide technical support, including, but not limited to: installation, on-site training, troubleshooting, and assistance with data analysis.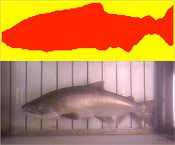 The Riverwatcher is used to remotely monitor fish in rivers, fish ladders, weirs, and fishways, using infrared scanning technology and high resolution cameras. The Riverwatcher is able to count and identify different fish species and validate fish counts with silhouette images and photographs. The Riverwatcher has been a huge success since its introduction, and is currently used at more than 300 sites all over the world.
Additional information on our use of this system can also be found on one of our past blog posts.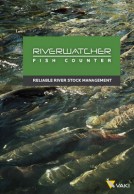 For more information
download a copy of the
Riverwatcher brochure.