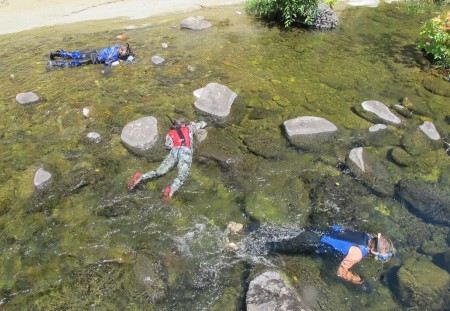 In early August, FISHBIO completed our first snorkel survey in the Big Chico Creek watershed. Specifically, we surveyed the 4.5-mile reach of the creek within the boundaries of the Big Chico Creek Ecological Reserve (BCCER). The reserve is a 4,000-acre tract of land that encompasses many diverse canyon and ridge habitats, including riparian areas, oak woodlands, chaparral, pine forest, rock cliffs, and springs. Owned and managed by the CSU Chico Research Foundation, the reserve is intended to preserve and restore critical habitat and provide a natural area for environmental research and education. As the last assessment of the reserve's fish community occurred more than a decade ago, we were excited to stick our heads in our community creek and catalogue the abundance of trout and other fish.
After two and a half days of crawling, swimming, hiking, slipping and climbing – with great support by BCCER staff – we were pleased with the numbers and variety of species that we encountered. Sightings of deer, rattlesnakes, western pond turtles, and fresh tracks of bear and mountain lion confirmed that the reserve provides a haven for wildlife only a few miles from town. Below the water line, we estimated that there were over 2,500 rainbow trout (Oncorhynchus mykiss) within the reserve boundaries, in addition to nearly 200 (non-native) brown trout (Salmo trutta). Other native species we observed, though too numerous or difficult to detect for a meaningful quantification of abundance, included Sacramento suckers, riffle sculpin and California roach (a small, native minnow).
Sacramento pikeminnow and hardhead, two large, native cyprinid species, were conspicuously absent from the creek – perhaps a lingering effect of a rotenone treatment nearly 30 years ago (Maslin 1996). As part of an effort to reverse the decline of anadromous fish, in October 1986 the California Department of Fish and Wildlife treated the section of Big Chico Creek from Higgins Hole (about half a mile above the BCCER) to the Iron Canyon Fish Ladder with the popular piscicide. Continued monitoring of Big Chico Creek in the coming years will allow us to document trends in abundance and size structure of both native and non-native species, and we look forward to our next summer survey in 2014.
This post featured in our weekly e-newsletter, the Fish Report. You can subscribe to the Fish Report here.