Wednesday September 3, 2014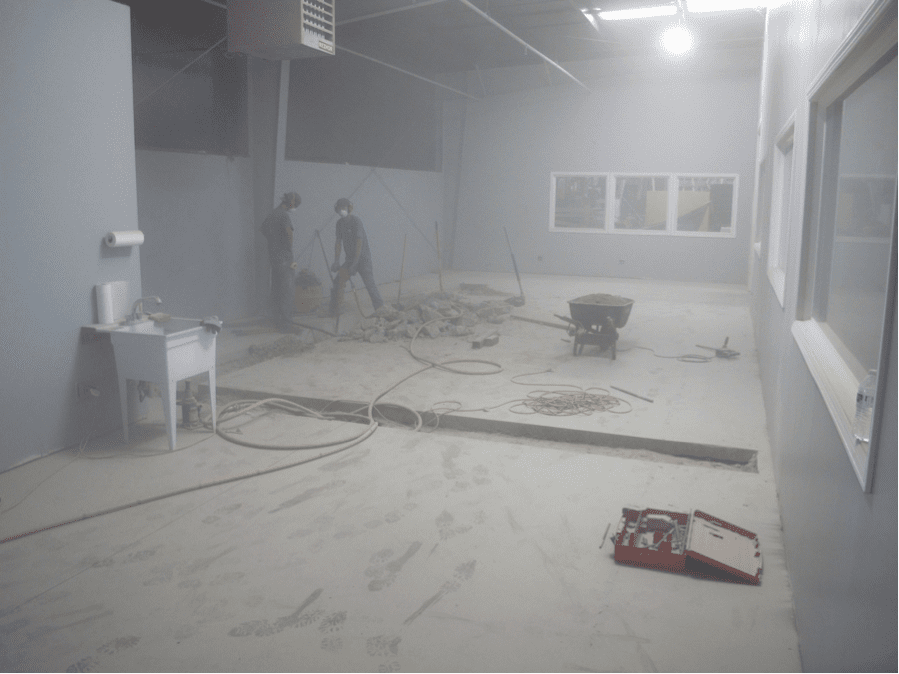 Now that we have worked at our current Oakdale, California location for over three years, we are finally breaking ground on our long-overdue fish lab. We don't expect this to be a quick venture, since we will do most of the construction work ourselves. We started with walling off and insulating an 800-square-foot area within our shop, complete with large viewing windows, an ample power supply, and a large roll-up door for moving equipment in and out of the lab. Our crew is currently working on constructing a floor drain capable of capturing drainage from any of our existing and future fish tanks. A covered trench in the floor will span the length of our tanks and allow any spilled water to be carried away. We want the ability to store fish tank water and use it to support our expansive garden. Cutting through and chipping out thick concrete floors is no easy task, however, as these photos can attest to.
There remain many details to flesh out, such as water filtration and temperature control, but our team is excellent at creative solutions to complex problems. We envision a facility capable of holding cold- and warm-water species for significant periods of time. Uses of a functional fish lab are endless, from testing protocols and methodology, to evaluating equipment and training personnel. We regularly need to train personnel in surgical tagging methodology, and expect to provide a safe and comfortable environment where these tagging skills can be practiced. We are also in need of a reliable location to conduct trials on new and existing fish monitoring equipment, such as a large flume tank we built for running trials that require fish to move through or past a specific point. We are looking forward to the development of this facility, as we expect we will use it regularly once it is completed.