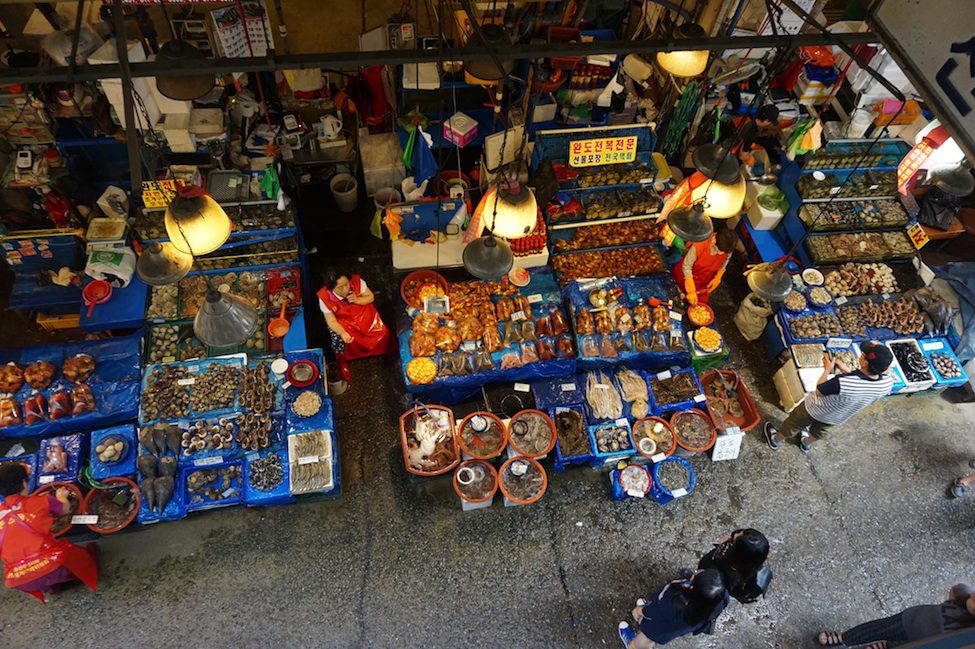 Today's Flashback Friday takes you along on one of our international explorations.
After spending a week in talks and symposia at the recent World Fisheries Congress in Busan, South Korea, FISHBIO staff were keen to set eyes on some actual fish. During the Congress, Busan's mayor Suh Byung-soo credited deep-sea fisheries with helping to revive the country's economy after the Korean War. Korea is home to a large ocean fishery for a country of its size, and we came to appreciate the importance of seafood once we witnessed its variety firsthand. We poked around two large fish markets: the Jagalchi Fish Market in Busan, and the Noryangjin Fish Market in Seoul. We marveled at the offerings of both fresh and dried fishes as we walked past bubbling tanks crowded with live specimens, piles of silvery dried fish larvae, and strings of yellow croaker suspended like dried fish mobiles. While some of the deep-sea fish looked quite strange, we also saw familiar faces like mackerel, which is one of Korea's top fisheries and is considered a popular comfort food.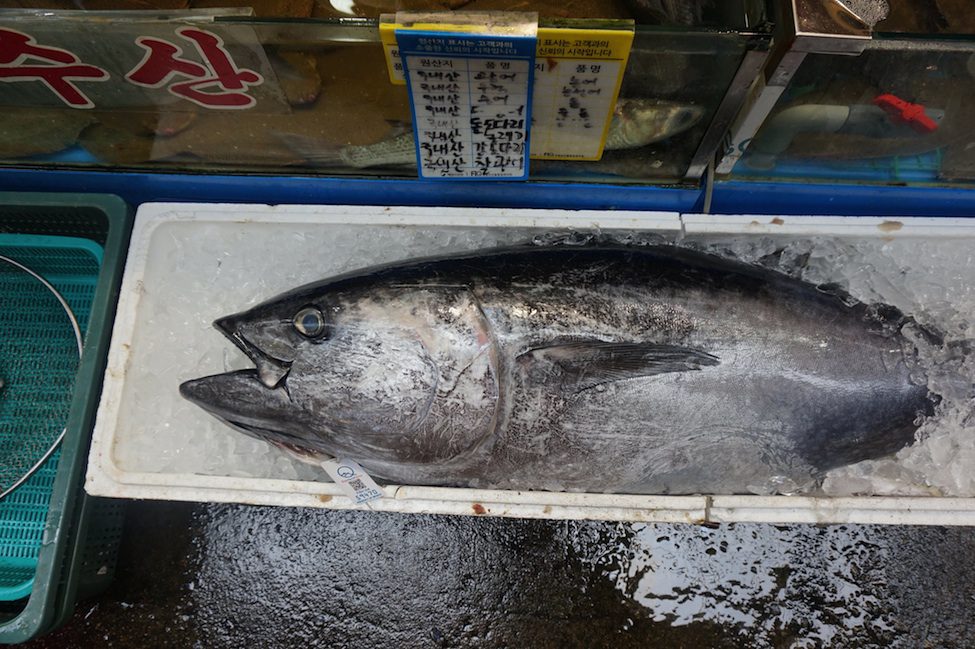 We didn't rise quite early enough to witness the 3 a.m. fish auctions, so we didn't observe the most sensational specimens, apart from one smallish tuna on ice. However, we did see an impressive array of aquatic invertebrates, from mussels, scallops, and squid, to some slightly more unusual offerings such as sea anemones, sea urchins, and fat innkeeper worms. Octopus were available whole, or by the tentacle. Most of the invertebrate specimens were still alive, and vendors called out with offers to slice up a sample to eat raw on the spot. Many of the vendors were female, reflecting the important role that women play in fisheries around the world. We discovered that consuming fresh seafood doesn't always require a trip to the market. Along the beach in Busan, we observed a row of identical outdoor restaurants. Inside each small tent, a single counter lined with stools bordered a set of tanks filled with live sea creatures, just waiting to be dished up and eaten with beer. Although we loved marveling at the diversity of live animals, we decided that sea anemones were just too adventurous to try as a bar snack. Check out our Flickr photo album to see more fish market photos from around the world!