Wednesday December 19, 2012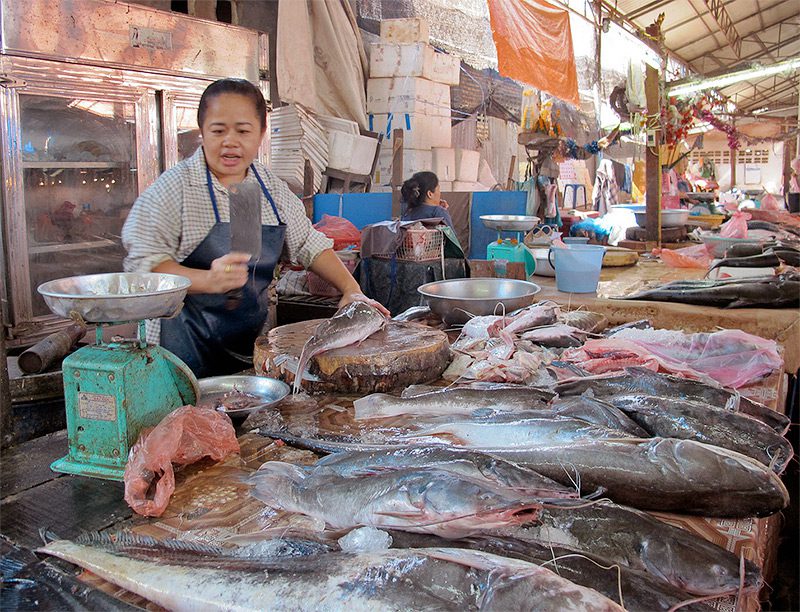 Fish meat is a delicious and important staple for the people of Laos, especially in rural areas where many lives depend on daily fish consumption (see Fish-kabob). Traditional Lao dishes include fish salad (Laarp), fish soup, and a spicy noodle fish dish (Khao Phoon pha). Such foods are commonly served for traditional ceremonies, wedding parties, and other important societal events. And fish vendors are making it easier for the average shopper to cook fish. If you go to buy fresh fish in the city markets, especially in the capital of Vientiane, the fish traders will ask, "What kind of dish do you want to cook?" It's part of the new services vendors have introduced in recent years to attract buyers: they will scrape off fish scales, remove organs, and cut fillets specifically for the type of dish the buyer plans to cook. Skillfully wielding cleavers and knives, they can prepare the fish in a quick minute, free of charge (see video). It saves the shopper a lot of time, but also requires making cooking decisions in advance!

The Mekong River is a vital source of fish for people across Laos, and is the current focus of FISHBIO's International Conservation program. But wild fish aren't the only ones in the markets. Farmed fish cultured in cages or ponds, such as Nile tilapia (Oreochromis niloticus— shown in video), broadhead catfish (Clarias macrocephalus), large scale silver carp (Hypopthalmichthys harmandi), and bighead carp (Hypophthalmichthys nobilis), are now widely sold at lower prices than wild fishes caught in the river. Many individuals opt for these cheaper farmed fish, while upscale restaurants and hotels purchase the wild fish. Regardless of where the fish comes from, any extra won't go to waste. Lao people preserve surplus meat as well-known dried fish (see Fish on a rope), pickled fish, and fermented fish—an important strategy in places where many families lack reliable electricity and refrigerators.