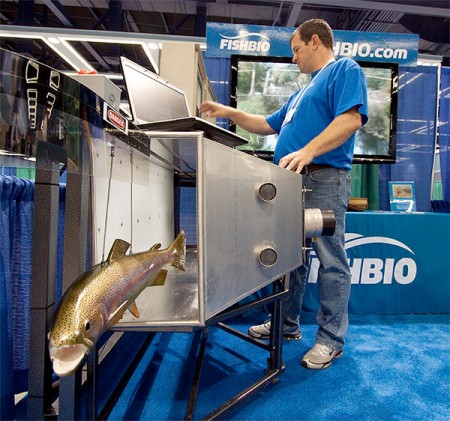 Technology can play an important role in monitoring and improving fish passage, and the VAKI Riverwatcher infrared scanner and fish counter is a prime example of such a tool. FISHBIO and VAKI will be showcasing the Riverwatcher at the International Conference on Engineering & Ecohydrology for Fish Passage at Oregon State University from June 25–28. If you missed our booth at the 2011 American Fisheries Society meeting in Seattle (see New frontiers), this is a chance to check out our fish carousel setup that demonstrates the Riverwatcher's features and capabilities. Representatives from VAKI and FISHBIO will be on-hand to answer all manner of general and technical questions about the Riverwatcher and its applications.
The Riverwatcher can remotely monitor fish ladders, weirs, and fishways using infrared scanning technology and high-resolution cameras. Fish swimming between the Riverwatcher's scanner plates break the infrared beams and create a silhouette image. A digital camera also records video or still images that can be used to identify the species and sex of each passing fish. The Riverwatcher counts and measures each fish, and records additional data such as passage date and time, flow speed, and water temperature. The Riverwatcher's software program provides tools to analyze migration run size and timing, fish size classes, and associated environmental data.
FISHBIO has used Riverwatchers since 2003 to count and monitor adult salmon and other fish migrating upstream to spawn. We have had such great success with the fishing counting system that we teamed up with Iceland-based VAKI to sell and service the devices in North America. As the authorized service agent, FISHBIO installs Riverwatchers and provides on-site training, troubleshooting, and assistance with data analysis. We are looking forward to contributing to the upcoming conference in Corvalis, Oregon, which will highlight engineering, biology, management, and social issues surrounding fish passage and watershed connectivity projects. Please stop by our booth— we look forward to answering questions and exchanging ideas about fish passage solutions.