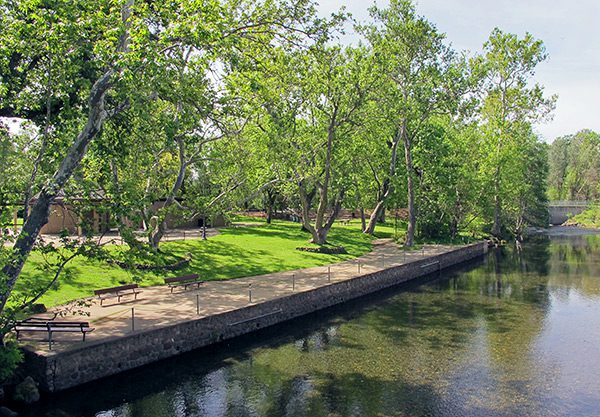 In celebration of Earth Day today, FISHBIO wanted to highlight grassroots environmental projects happening in our own backyard. We did not need to look far: The Stream Team actively promotes environmental awareness and volunteerism in Chico, California, by engaging the local community in watershed stewardship and monitoring. The Stream Team meets on the second Saturday of each month and sends out local volunteers to conduct watershed assessments in Big Chico Creek. The volunteers who participate in this monthly Big Chico Creek Watershed Citizen Monitoring Program range from university students to long-time community activists, making for a lively, diverse, and enthusiastic group. Splashing through the cool creek water, taking measurements with electronic devices, spotting the occasional fish, and spending time with family and friends in the warm spring weather are all part of the experience in the group's efforts to help their neighborhood watershed.
Creek systems like Big Chico Creek are important to the overall function and health of river ecosystems and surrounding communities because they provide safe drinking water, habitat for endangered fish (such as salmon), and flood control. The Stream Team monitors a large portion of the 46-mile-long Big Chico Creek, from its confluence with the Sacramento River to its upper reaches in the Sierra Nevada foothills. Volunteers measure current velocity, water temperature, turbidity, pH, and dissolved oxygen along the creek using everything from basic yellow ribbon tape measures to small portable chemistry test kits. The group has devoted more than 20,000 hours of community service, and has collected almost a decade's worth of data on the water quality of the Creek. This cumulative data has helped provide useful baseline information and track long-term trends in the watershed's condition.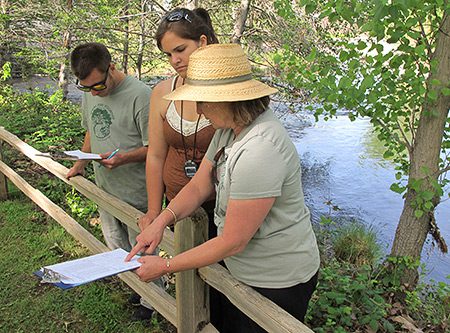 The Stream Team has discovered that urban areas such as Chico are impacting the ecological health of Big Chico Creek.  The creek's lower stretch (from Chico to the Sacramento River) shows declining water quality and a lower abundance of aquatic life, such as fish and insects. In addition to the group's regular monitoring activities, Timmarie Hamill, a member of The Stream Team's board of directors, hopes to begin conducting snorkel and redd count surveys of salmon in the near future. She encourages interested individuals to volunteer their time or donate to keep the non-profit organization active. The Stream Team has successfully brought the local community together to promote stewardship of the Big Chico Creek watershed and the local environment. Hopefully, similar citizen monitoring efforts around the world can help local governments preserve and protect water quality and aquatic life for decades to come. For more information, please contact The Stream Team at (530) 342-6620 or visit their website at www.thestreamteam.org.
This post featured in our weekly e-newsletter, the Fish Report. You can subscribe to the Fish Report here.