As the readership for our Fish Report newsletters and weekly blog posts continues to grow, we always like to take a look at which of our stories performed the best among our readers. We crunched the numbers at the end of the year, and the results were a bit surprising. While our top stories of 2015 were all related to highly topical issues, in 2016 a few charismatic (or not) wildlife species stole the show. We pride ourselves in covering a broad range of topics in our stories, which we hope you find informative, useful, and sometimes even entertaining.  Thanks for reading, and enjoy our five most-viewed stories of 2016!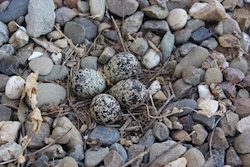 #5: The Urban Killdeer: Our Oakdale office received a surprise visitor this year, when a visiting killdeer decided to turn our yard into nesting habitat. This little bird laid four very well-camouflaged eggs among the gravel, and entertained us in the video footage we recorded of its nesting behavior. While we are often in search of wildlife species in the field, it's always a pleasant switch when they come to see us instead!

#4: California's Delta History: In a setting as complex as California's Sacramento-San Joaquin River Delta, it never hurts to revisit history to figure out how things came to be the way they are. In this story, we describe the transformation of the Delta from a verdant marshland into the channelized patchwork of islands it is today. We also created our own graphic that illustrates how the construction of levees and dykes shifted the relationship between land and water in this highly altered landscape.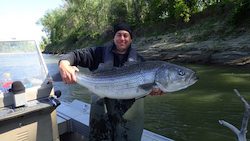 #3: The Policy of Predation: FISHBIO went to Washington in 2016 when the House Committee on Natural Resources asked us to testify on the issue of predation. In this story, we describe California's various, and even conflicting, policies related to native and non-native species, the threat that predation poses to native salmonid species, and successful efforts in other states that have helped reduce predation pressure. You can read our full written testimony here.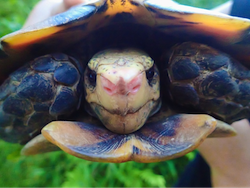 #2: Saved from the Soup Pot: This heartwarming tale of rescuing a tortoise from a market in Laos certainly won over our readers. While travelling for fieldwork, our biologists purchased this lucky reptile in northern Laos and set it free in the forest of a nearby protected area. While not yet endangered, it turns out the Impressed Tortoise is still a species of concern in the country – we were happy to give this one a second chance.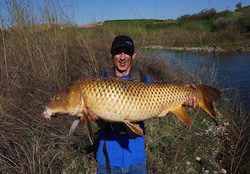 #1: Common Conquerors: The Quiet Takeover of the Common Carp: Not only have common carp quietly taken over much of the world, they also commandeered our rankings as our most-read story of the year! Humans have been raising (and probably releasing) carp for thousands of years, so it's little wonder they have become so widespread, from koi ponds to California waterways. While we're somewhat puzzled by this story's popularity, we figured the great photo of one of our own carp encounters couldn't hurt!
We always love to hear from you to learn what you enjoyed reading in 2016, and what you are interested in seeing more of in 2017! Drop us a line here.
This post featured in our weekly e-newsletter, the Fish Report. You can subscribe to the Fish Report here.