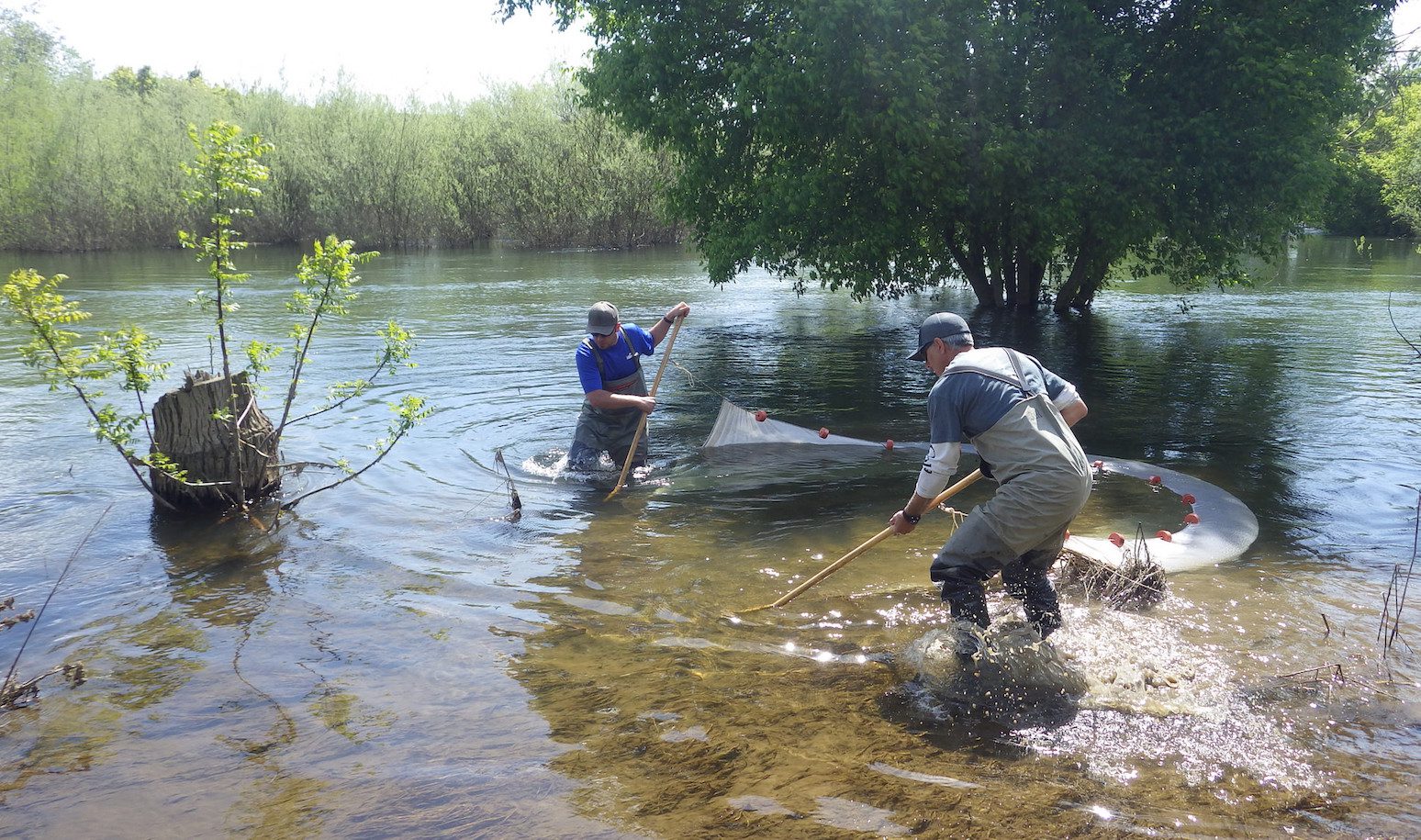 Fish don't take holidays, so the work of fisheries monitoring never stops. But the end of the year does give us a chance to celebrate some of our 2017 highlights. We kicked off the year with the release of our first peer-reviewed scientific publication, which explored the relationship between river flow and fall migration timing of adult salmon on the Stanislaus River. Thanks to a record water year, high flows in the San Joaquin Basin throughout the entire year presented some challenges for our regular monitoring—but luckily, our crews rose to the occasion. Storms wreaked a little havoc on our rotary screw traps, and we added extensions to the resistance boards of our fish-counting weirs to withstand the higher flow. Flooding in new areas also gave us a chance to survey how fish were using this novel habitat. Our ninth year of snorkel surveys on the Stanislaus River documented a rebound in the rainbow trout population after a sharp decline, with more than 9,600 trout observed this year.
Our FABLAB was busy building eight more fyke traps for fisheries monitoring, and continued customizing our Smolt Spy fish monitoring camera for various uses. We deployed the ARIS camera to survey fishes at a restored wetland in San Pablo Bay, and presented a poster of the results at the State of the Estuary Conference. Other interesting workshops that we attended focused on hatchery delta smelt, invasive species, and biotelemetry. For the second year in a row, we brought fisheries science to Washington, DC, this time to give scientific briefings to bipartisan groups of government staffers. We helped plan another successful Salmon Festival on the Stanislaus River and led many other educational events, including our first foray into outreach in Santa Cruz, where we hosted a tour for the Coastal Watershed Council and led activities for an afterschool watershed ranger program.
In the Mekong Basin, we completed a draft of our Fish Conservation Zone guidebook and began testing it in the field in Laos. We continued teaching school children in Laos how to survey aquatic insects for monitoring stream health, and donated a microscope and kick nets to a rural school for the surveys. We worked as part of the Wonders of the Mekong project in Cambodia to host a workshop on endangered species in Phnom Penh, and attended the International Flood Pulse Symposium in Siem Reap. Our staff interviewed fishers about their fish catches in the 3S Basin of Cambodia, and traveled to Myanmar to conduct a habitat survey down the Irrawaddy River. We released a report of our participatory fisher surveys on the Mekong River in Laos, and started a new project to strengthen the management of a Fish Conservation Zone we helped establish last year.

The year also brought a handful of new experiences. We attended a Pikeminnow Derby on the Feather River, and finished the construction of our Fish Lab. We rescued three feral kittens in our yard, and two of them found a new home at our office. Our kitchen got a custom upcycled dehydrator, we built a creative bar for our Brew Lab out of some wine barrels, and we tried our hand at making wine. At FISHBIO Farms, we harvested our first crop of kiwis and finished our greenhouse that now contains a growing collection of tropical trees, including papayas, dragon fruit, and Costa Rican lime. It's been a fun and eventful 2017, and we want to thank all of you who make our work possible, as well as those who enjoy reading about it every week. Happy Holidays – we're looking forward to more adventures in 2018!
This post featured in our weekly e-newsletter, the Fish Report. You can subscribe to the Fish Report here.