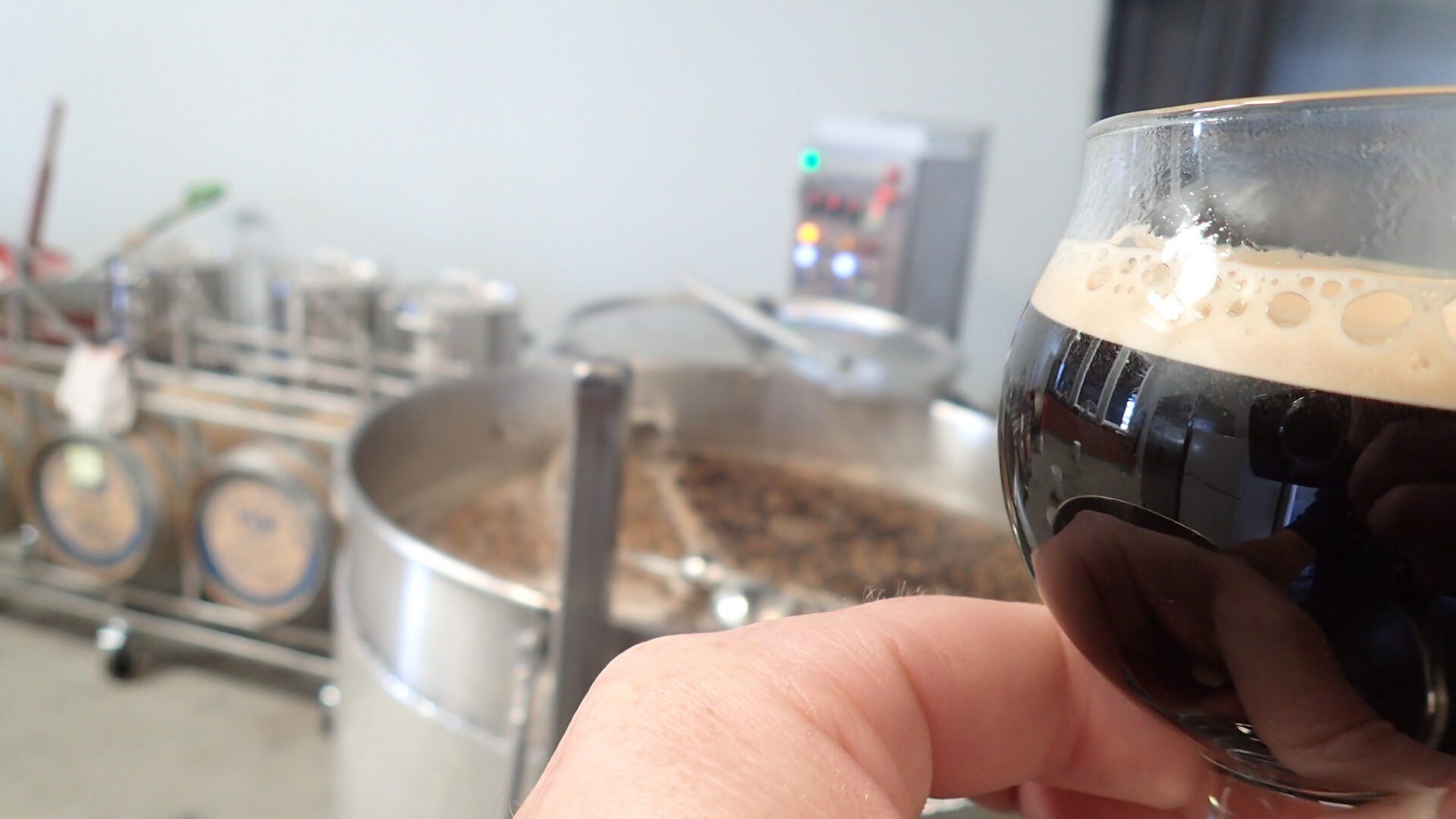 There is just something about biologists and beer; where one goes the other can typically be found nearby. We find this to be true based on the usually stellar selection of brews either at the conferences we attend or in the cities in which they are held. Be it the refreshing nature of an ice-cold adult beverage after a long day in the field or the allure of brewing as its own scientific experiment, fisheries biology seems to be steeped in the craft beer culture. In 2015, we joined the craft craze with our most recent endeavor, FISHBIO Brewing. While not a full production brewery, we've parlayed the homebrewing hobby of several of our biologists into a new extension of FISHBIO Farms that allows us to share some of our favorite brews with friends and family.
Our first step was similar to every other traditional homebrewer, brewing roughly five gallons of beer with a haphazard assemblage of cobbled together equipment. Our first unique brew, a traditional red ale, was one of the first forays into all-grain brewing for our affectionately named "Brew Crew." It was quickly followed by our staff favorite, the Mango Wheat, a blend of Citra hops and mango purée inspired by the mango beers we encountered in the local bars near our Lao office. Since then, we expanded our repertoire to include several different varieties and styles, including blonde, pale, and India pale ales (IPAs for the uninitiated), as well as a breakfast stout and another staff favorite, the coconut brown. With the strong beer culture created by several large breweries near our California offices, particularly that of Sierra Nevada Brewing Company in Chico, sources of inspiration for new and exciting brews are seemingly endless.
After several rounds of brewing, the next step of our brewing endeavor was actually an expansion of FISHBIO Farms. With the frequent brewing requiring a steady stream of raw ingredients, several of the garden beds were converted to hop beds. Fittingly, Cascade and Chinook hops were the first varieties we selected. Taking into consideration the growing variety of brews in our catalog, we recently expanded our hop varieties to include Centennial, Columbus, Mt. Hood, Northern Brewer, Nugget, and Willamette as well. Having a diverse array of hop varietals available is essential to crafting new and intriguing beers, as each variety of hops contributes differing levels of bitterness, flavors, and aromas to brews.
Our most significant recent developments involved several contributions from our FABLAB, and a skilled member of the Brew Crew. After several rounds of brewing on our five-gallon setup, the amount of brew yielded from our hours of effort was considerably less than desired, so we made the decision to scale up our operation. At the end of 2015, we purchased the requisite kettles and fermenters to yield one barrel (roughly thirty gallons) of the sudsy stuff. Along with the new kettles, the FABLAB teamed with the Brew Crew to create a custom tippy-dump style brew stand that was set up to use electric burners to heat our mash, boil the brew, and more easily maintain proper temperatures throughout the process.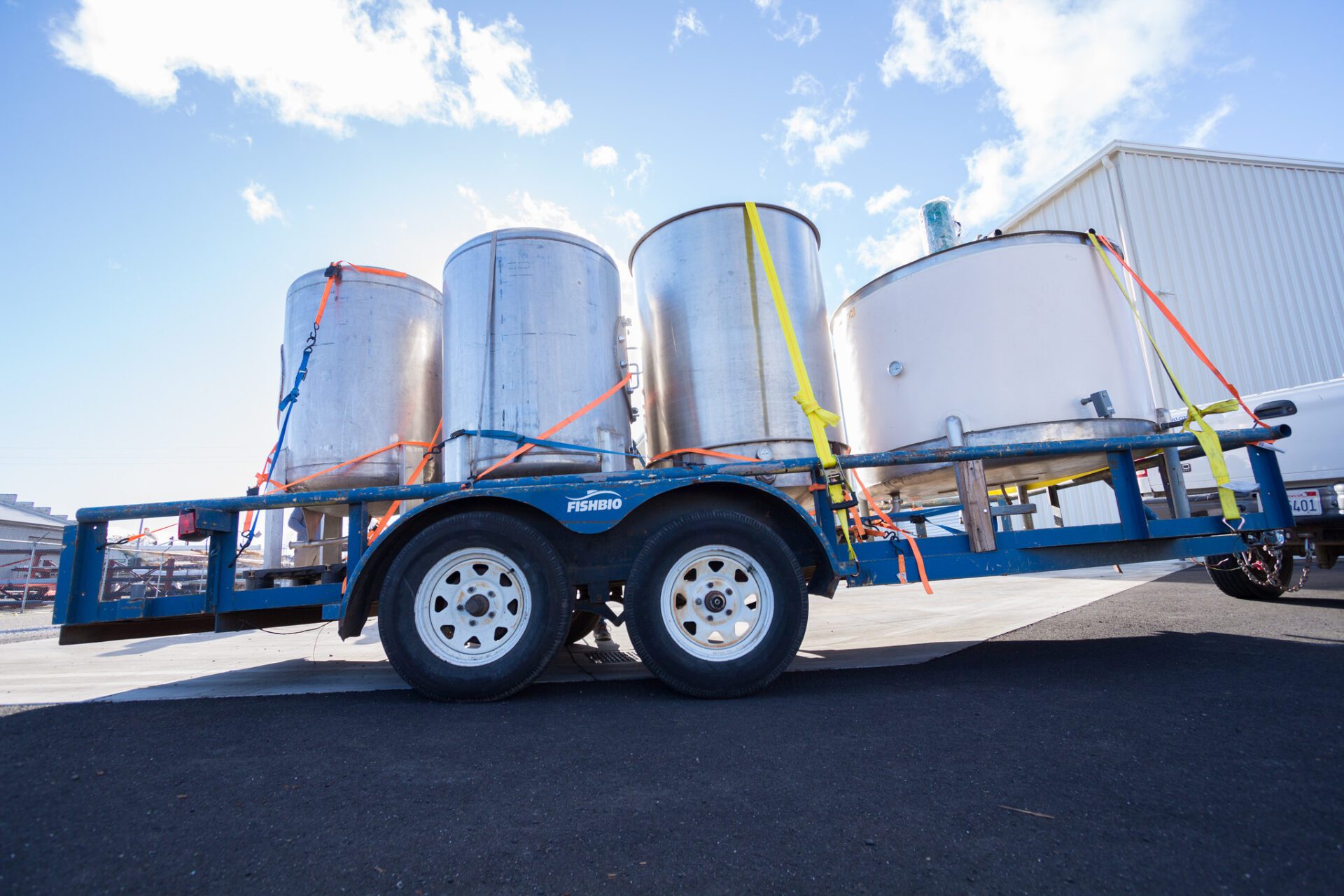 As we look toward the future of FISHBIO brewing, the most recent phase of our production has followed the current trend of beer.  Craft brewers have been choosing to age beer in oak barrels for the new flavors they impart, with some going as far as repurposing former bourbon, rum, or tequila barrels for an additional punch of flavor. Over time, we will surely plan to expand our selection even further, and there are plenty of thirsty volunteers around the office to make sure things are up to snuff. In the event that we do decide to scale up even further, we were actually able to procure the old equipment from Andreson Valley Brewing Company that would jump production up another several barrels. Until then, cheers! Or for our Laotian colleagues, chok dee!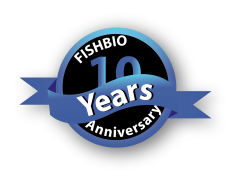 This post is one in our series
FISHBIO Turns 10
! Help FISHBIO celebrate 10  years by joining us for the
2016 5K Salmon Run
in Chico's Bidwell Park on September 24.
Register now
!